Last year, Home Vision Entertainment released Peter Weir's 1974 debut film, The Cars That Ate Paris, on DVD, and it was a welcome addition for those of us Weir junkies in the U.S. who've never had access to the movie.
The movie itself is problematic, but the disc is great. That's because the DVD also includes The Plumber, a Weir television movie from 1979 that should have gotten top billing in this package. Cars is an interesting film and an important artifact, but The Plumber is a superior work — a complex, frightening, wicked, and funny gem that deserves to be rescued from obscurity.
The Plumber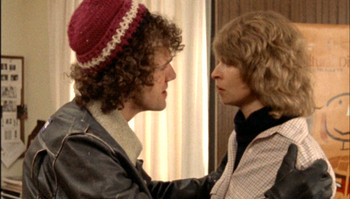 You're in your apartment. Your husband has gone to work. There's a knock at the door. A genial man says he's the plumber. You explain that you haven't called for a plumber. He replies that he's checking the pipes of all the apartments because of a pressure problem. You let him in; his story seems reasonable, and he's got the right tools. It's an act of trust. He says his name is Max.
You're watching The Plumber. This setup is awfully familiar. You know the plumber's a violent man, capable of unspeakable deeds. You know the wife, Jill, is in trouble. It's an act of trust.
Something doesn't seem right with the plumber. He's too chatty, isn't particularly good at what he does, and appears to be camping out in your bathroom. Unlike you, he's not educated man. He's eyeing all the valuables, commenting that they must be worth a lot of money, and it seems that he took a shower instead of working that first day.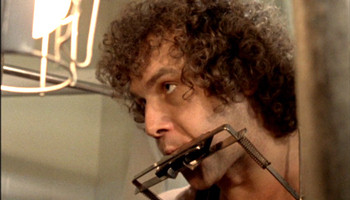 But, hey, nobody's perfect. Sure, the job he claimed would take a few hours stretches into days, and on the morning you don't answer the door he comes in through the ceiling. But he keeps showing up and banging around, and you remain unharmed, and nothing is missing.
The plumber is played by Ivor Kants, and if you were re-making the movie, John C. Reilly would be at the top of your list. Judy Morris is the wife, and you can't help but be reminded of Bonnie Franklin in One Day at a Time or the Ellen Burstyn of Alice Doesn't Live Here Anymore.
One day you make Max coffee, after he drops a heavy hint. And you fix him a sandwich, but without meat, because he says he's a vegetarian. Part of your problem is that you're as timid as Max is bold; you can't say no to him. He bullies you in small, friendly ways. If you were firmer with him, you might be able to get him to leave. But you aren't, and he doesn't.
You recognize that the movie is not just a psychological game between plumber and woman but a match between you and the filmmaker, and you and your expectations. You're meant to identify with the wife and fear the plumber, and you do, because she's in a dangerous situation, and because he is just off. But you start to think that maybe he's not as menacing as you first thought.
One day Max tells you that he's not a plumber but a folk singer. Another time he says he was in prison. For rape. Oh, he was just kidding. It was for burgling, and he relates that he always used to carry around plumber's tools in case he was caught. But that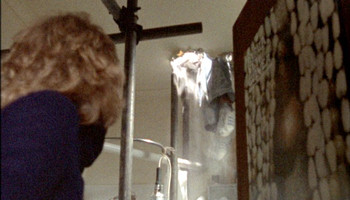 was a long time ago. You ask about his incarceration later, and he says he was never in prison. Your husband is busy with important business and can't be bothered. You're apprehensive and tense, but you keep letting the guy in. If you don't, he'll just come in through the ceiling.
You recognize the wife is right to be increasingly nervous and scared, but some things don't jibe with her fears. You see that a neighbor recognizes the plumber and calls him by name. You see that the security guys keep letting his car in every morning. You think back and realize that Max has never verbally threatened Jill. He's never raised a hand with her. At this point, you decide that Max doesn't present any real danger. Then Jill's actions make you re-think that position.
You're not using your best judgment. You're open in your hostility toward Max, and he's catching your negative vibes. Your anxiety reveals your vulnerability, and he seems to feed off it.
The setting is a university high-rise that is teeming with humanity, and you would be right to marvel out how effectively Peter Weir, the movie's writer and director, isolates Jill in such a populated urban setting. When she opens the apartment door, you can hear the wind whistle, and you can't see another soul.
You think Max waits for your husband to leave in the morning. You think he's spying on you. You're right, but you don't know that.
You probably remember that Weir made Witness and Dead Poets Society and The Truman Show and Master and Commander. Unless you're a movie geek, you probably don't know that he mostly made strange horror movies in the '70s before The Plumber: Picnic at Hanging Rock and The Last Wave. Regardless, you can't think of anything Weir has done that's this grounded in mundane reality. You might think that The Plumber mines the uncertainty of the everyday better than just about anything you can recall, and you'd be correct.
You plot. Politeness doesn't seem to work, so you think of another way to get rid of Max. It's elegant and smart and shockingly easy, and perhaps best of all, it's so clever that the dumb plumber would never suspect it.
And when it's all over, you're still not sure what to make of Max, or his intentions. You know that you won't be quite so trusting of people, but you also realize that mistrust comes with its own set of dangers.