The Double Life of Neko Case (an interview)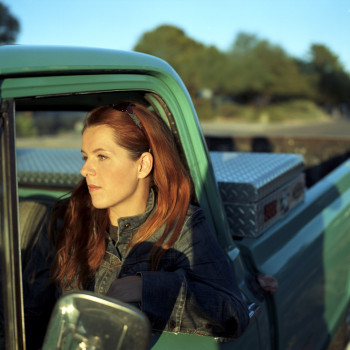 Neko Case is a siren whose seductive voice might be the single most alluring instrument in music today — clear, robust, sexy, self-possessed, and expressive, with an endearing hint of nasally imperfection.
On her solo albums, that voice is the centerpiece of beautifully arranged country-tinged songs, without a hint of irony. They're dark, atmospheric, and — at their most world-weary — nearly spectral in their power to haunt. And the 34-year-old singer/songwriter can belt without any sign of strain, or lay on the syrup of an old-time country crooner.
In concert, she is eerily powerful, summoning gooseflesh with her intense, full-bodied, and seemingly effortless singing. Only late in a 90-minute set are there any signs of fatigue, as she holds onto the microphone for support and gets ever-so-slightly loose with her enunciation.
And when she's sick of being Neko, she can retreat into being a Pornographer. Case basically sings backup (with the infrequent lead vocal) for the spectacularly sunny, sugary, and hooky power-pop outfit New Pornographers, the rare critical darlings who are actually fun to listen to. And because other members — mostly Carl Newman — write the material, Case can simply sing her heart out without having to worry about lyrics, music, or production.
And then there are various one-and-done collaborations and occasional bands, including a singing group with Carolyn Mark and Kelly Hogan. "I'm kind of a whore," Case said in a recent interview, "but it's really fun."
And those are just the latest incarnations of Case. She's also an art-school graduate who got her musical start in punk bands, playing drums.
With her solo work and the New Pornographers, there's no confusing her disparate interests. In the former she's the center of attention, and in the latter she's a background element.
"The New Pornographers for me gives me an outlet to escape doing my own thing," Case said. And it provides its own rewards: "super-loud-teenage-rock-band satisfaction. It is super-gratifying, I have to say."
Case has been in the studio a lot over the past year, working on a new studio CD, putting out a live album, and recording with the New Pornographers. The live The Tigers Have Spoken came out in November, the New Pornographers' Twin Cinema will be released August 23, and her studio album is tentatively slated for March 2006.
There is no doubt that Case is a great singer; her talent certainly doesn't lie with describing her upcoming releases. She called Twin Cinema "loud and gigantic," but confessed that talking about it beyond that is difficult, even though she received a copy in the mail a few days before our interview. "There's a lot of singing on it, and the drum sounds are fantastic," she said. "The New Pornographers' record is always a mystery to me. I really like it, but if I had to describe it, I couldn't."
She's not much better on her own material, although that's partly a function of its unfinished state.
"When we're in the studio, we put on whatever we feel like," Case said. "'Sure, you want to play the crutches? Go ahead.' We just do everything we can while it's happening, because we can. It kind of gets whittled down to something else. ... I won't know until we mix it. That's the surprise portion of the recording."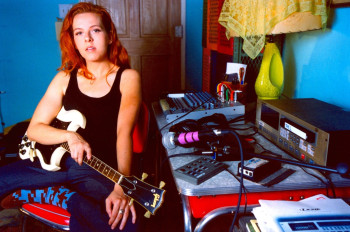 While 2002's Blacklisted had the focused but weary and defenseless sound of torch songs performed long after midnight in a smoky jazz club, the new album will have more up-tempo songs, Case said, and a leaner feel.
"On Blacklisted we kept a lot of stuff that we put down. On this one I'm trying to pare it down a little bit. ... I'm trying to make things a little more sparse; that's kind of the experiment I have going on now. I don't know if it's leaving the genre. I don't even know what genre I'm in." The label that has struck her as most appropriate has been "country noir."
After three accomplished full-length albums and a home-recorded EP, The Tigers Have Spoken was a bit of a surprise for me. Unlike most live records, this was not a glorified greatest-hits package. "I don't really have any greatest hits," Case joked, but not with false modesty. "That really wouldn't have worked."
Tigers is instead mostly a covers album, featuring four Case songs (two written in collaboration with her backing band, The Sadies) and other material ranging from Loretta Lynn's "Rated X" to Buffy Sainte-Marie's "Soulful Shade of Blue" to the traditional "This Little Light."
While much of her solo material is darkly wise, Tigers is joyous and bright. And unlike Blacklisted, in which the spotlight shone brightly on Case, the live record is as much a showcase for her friends and collaborators.
Although she loves performing, Case doesn't appear to have much of an ego, and seems happy to cede credit to others. "I've never gone to music school, [and] I don't have unlimited abilities in the world of rock," she said. "I've only been playing guitar for four years. ... I'm basically a cutter and paster."
Case made her recording debut in 1997 with The Virginian and began to generate serious buzz in 2000 with Furnace Room Lullaby. It was Blacklisted that really grabbed the world's attention.
"Blacklisted rings with lost voices and strange journeys, and does a better job of balancing hope, innocence, and darkness than just about anything I've heard in a while," Dusted magazine gushed. Mojo was succinct and accurate in writing, "She's one of a handful of people who could sing the telephone directory."
Blacklisted is a powerhouse, easily one of the best records of 2002. "Deep Red Bells" finds the singer in full-throated glory, while Case turns "Pretty Girls" — whose lyrics suggest an uplifting rejoinder to women the world over — into something full of anger, sadness, and doubt. A cover of "Look for Me (I'll Be Around)" is a stalker ballad via lounge music. And "Ghost Wiring" has a subtle, simple three-note banjo motif that works with Case's worn vocals to suggest a message from beyond the grave.
Unlike most musicians, Case is happy to be a cult figure in the music industry, content to play smaller venues. "Who wants to go to an arena to see music?" she said. "They're not designed for music; they're designed for sports. Sounds like shit in those places."
Theatres and clubs also provide something positive. "You can feel like you're doing something local, something smaller," Case said, "and you can feel more intimate and connected to your community, which is a really important feeling."
But even with two widely praised musical outfits, Case is still relegated to an existence in which she sometimes has to borrow money between tours. "I can pay my rent," she said. "I'm not wealthy by any stretch of the imagination."
Not that she's complaining. "It's worth it," she said. "It's a good job. The best job, really."
This article appeared in slightly different form in the River Cities' Reader.