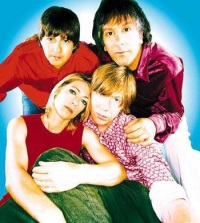 In Slate.com, Hua Hsu concisely articulates my boredom with Sonic Youth's highly regarded (and moronically titled) new record:
"Despite being one of the most influential bands of the recent past, nobody has really come close to sounding like Sonic Youth. ... Now, on their 21st full-length album, Rather Ripped, Sonic Youth has done the unthinkable — they've begun to sound like everyone else."
Less evaluation than appreciation, the article doesn't view the statement quoted above as an indictment, but I do. If a band (or product) drops what makes it unique, it will soon become irrelevant. And Sonic Youth without feedback and without self-indulgent meanderings is pretty damned dull; those are essential elements of the band, not accoutrements.