(An audio version of this interview [29 minutes, mp3, 6.5 megabytes] can be downloaded here.)
An Interview with Delbert McClinton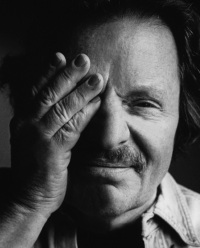 Modesty is a rare commodity in the world of rock and roll, but Delbert McClinton thinks it's an essential element of writing a good song.
"Being a songwriter, you have to know humility, and embrace it," he said in a recent interview. "In songwriting, there's what we around here call good stupid and bad stupid."
McClinton has been doing a rootsy brand of good stupid for almost five decades, and it's earned him adoration and respect as a songwriter, a harmonica player, a singer, and a bandleader.
Implicit in McClinton's good-stupid/bad-stupid dichotomy is an understanding that popular songwriting is not about creating art or highfalutin poetry. It's about crafting a line that can hit audiences hard in a matter of seconds, and recognizing the difference between what will make them smile, cry, or knowingly nod and what will make them groan.
"Good stupid is something that connects with people," he said, "something that's either really sappy or really corny that works. And bad stupid is something really sappy or really corny that, if somebody says it, it embarrasses you."
Knowing where that distinction lies, he said, "I think maybe that's one of the songwriter's gifts. But you need people who will say both things, because sometimes from bad stupid comes a piece of good stupid. ... In order to find the best of it, you have to throw 'em all out there on the table. ... By doing that, it makes such a loose and open activity that it rarely bogs down from not having many choices and directions to go with what you're trying to say."
McClinton recalled writing "Livin' It Down" (off 2001's Nothing Personal) with his longtime songwriting partner Gary Nicholson and Benmont Tench of Tom Petty's Heartbreakers. Ben offered an opening line: "My ship came in, and she sunk it." McClinton quickly added: "I was the toast of the town, and she drunk it." And they started rolling from there. "We wrote in the song in, I don't know, less than an hour," McClinton said. Good stupid.
Humility is something that extends beyond songwriting in McClinton. He makes it sound as if he's been a musical Forrest Gump — lucky instead of good. "I've had a very interesting and colorful career," he said. "I've been coincidentally ... involved in a lot of unusual music situations in my life. And it makes for a good story, I guess."
The thumbnail includes starting out in the Ft. Worth, Texas, club scene backing legends such as Howlin' Wolf, Jimmy Reed, and Sonny Boy Williamson II. "These people were my heroes," he said. "It was kind of like on-the-job training; being the right place at the right time was the way I always felt about it. I learned to play harmonica from a couple of them."
He played harmonica on Bruce Channel's hit "Hey! Baby" in 1962. He gave a harp lesson to John Lennon. In 1978, Emmylou Harris had a number-one country hit with his song "Two More Bottles of Wine."
Yet McClinton claims he didn't hit his stride until the mid-1980s. "I don't think I matured as a songwriter so much, or a performer for that matter, until I was about 45 years old. ... I think that's when I started to get a clarity about it that I had not perceived before. ... I think just living happened, getting a perspective on things that's solely yours."
McClinton's songwriting got its start in poetry as a teenager. "It was just coming at out of my head," he said of the rhyming lines. "I think it started out as poems and turned into songs."
He recalled an assignment in ninth grade, when every student had to write a Christmas poem for a school-newspaper contest. "I was not an 'A' student by any stretch of the imagination," he said. "A bad student. But come Christmas edition, my poem was on the front page. I was the one that won."
The poem was called "Christmas to the Blind," and he remembers it "describing what the blind person sees and senses and feels on Christmas rather than someone who has sight. And it was pretty heavy."
He still has the poem. "I ran across it here a month or so ago," he said. "I've got it in old scrapbook." When asked what he thought of it now, half a century later, he fumbled a little: "It's good. It's not ... uh ... you know ... I was a kid. ... I mean, it's a little sappy now. ... The last line was, 'His is the heart filled with Christmas cheer, and we're the ones who are blind.'"
When rock and roll broke out in the early 1950s, McClinton said, he was drawn to "the emotion and the conviction of the black music, and wanted to be a part of it. It was kind of the difference between listening to Perry Como or Muddy Waters. It wasn't a hard choice."
The combination of music and poetry has served McClinton well, with a discography of more than 20 albums over the past 35 years. But the respect he's earned with roots-music aficionados and fellow musicians hasn't translated into appropriate commercial success, in part because he's so comfortable in so many idioms. "I've always been in the position of being an artist who is expendable, because nobody knew what to do with what I was doing," he said. "So I got thrown away a lot."
After releasing One of the Fortunate Few on the Rising Tide label in 1997, he was discarded again. "It was the last straw for me," he said, "but it inspired me in a brand-new way, which is still going today." He made a decision: "I'm not going to listen to anybody other than what's in my head."
McClinton recorded Nothing Personal without a label and with his fingerprints everywhere. "I still thought for many years that the producer knew best," he said. "And in some cases they do, but in my case they didn't."
New West wanted the record without hearing it, and the relationship has been fruitful: two Grammys, another nomination, and a live disc that still sells steadily and that McClinton actually boasts about: "I thought it was the best live recording I'd heard in years." His most recent CD, 2005's Cost of Living, won the Grammy for Best Contemporary Blues Album.
He's planning a fall release of "some re-dos of some old music," he said, explaining that he wants to do the songs right. "I have music going back to the early '70s that, at the time they were cut, I was depending on studio musicians that didn't necessarily play the style I wanted the songs to be in. But at the same time, it was the best shot I had at doing it, and even I didn't know exactly then how I would prefer to do it." He also plans on a disc of new material next spring.
"I've wanted this since I was a teenager, and I still want it," he said. "I still have the mindset of one of these days I'm going to make it. ... That's a good attitude to have when you're 65 years old. That's a fun place to be."
(This article appeared in slightly different form in the River Cities' Reader.)