The Miser's Guide to the Year's Best Off-Center Music
Year-end lists of the best albums of the past 12 months are cruel, because either you'll go bankrupt buying all these fantastic records or you'll resent how much great music you're missing because you can't afford to buy them.
I'm not typically a nice person, but these are the holidays, so my year-end list is something that most anybody can afford. I've selected and sequenced 15 favorite songs (by 15 lesser-known artists) from 2006 and — in 11 cases — provided Web addresses where you can download or at least listen to the song for free. The remainder can be purchased from iTunes (and, most likely, other download sites). And it'll all fit on a single CD (if you're still into that sort of thing).
By chance rather than design, these tracks largely stick to the formula of the pop/rock song. There is little radical here, and much of it is unapologetically derivative. That could be a function of the compilation format; removed from an album and grouped with other artists' songs, a track needs to work independent of a larger body of work, and that reality rewards classic forms over invention.
Or it could be that I'm getting old and have less tolerance for experimentation.
MP3 links worked as of Tuesday, January 2, 2007. Some links might be of dubious legality.
And because I'm not fundamentally nice, I command you: If you like a song, buy it, or the album from which it comes.
Greg Laswell, "Sing, Theresa Says," from Through Toledo. A model of sleepy urgency, our opener mines the tension between Laswell's sweetly fatigued singing and its core musical backdrop — a spry tempo driving a rudimentary guitar hook. Laswell augments the tune with some smart late touches — a lovely collection of backing voices, strings, keyboards, and piano — and the song is worth hearing for its music alone. But it's also a lovely lyric, a domestic scene giving way to internal struggle: "Go to sleep while I gather all my things / And I will call you in a couple of days / I can hear the June bugs approaching / A god damn army of them in my brain." The chorus is nearly heartbreaking, pitting relationship expectations against imperfection and inadequacy: "'Sing,' Theresa says, 'Sing happy things' / 'Sing,' Theresa says if I do everything / One day a man will spring worth loving." Download.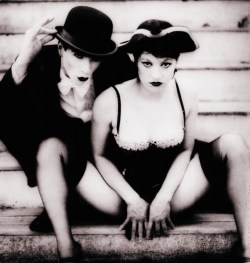 The Dresden Dolls, "Sex Changes.," from Yes, Virginia. This dynamic "punk cabaret" piano-drum-vocal duo gets more variety out of three instruments than just about anybody I've heard, and this fiery track is a bizarrely compelling narrative that equates a sex change with an unplanned pregnancy, warns of life-long consequences, and finally doesn't distinguish between a penetrating penis and a surgical knife. It's a marvel of associative writing and double meaning, and Amanda Palmer and Brian Viglione sell the hell out of it. As a singer, Palmer has serious balls — dramatic and unfettered, with surprising phrasing. The opening piano line has a dark triumph that's undercut within 20 seconds by the first drumbeat and a Palmer yelp, yielding to a story that cleverly invokes sexual confusion with its first words: "Dear Mr. and/or Mrs. Sender." When its subject shifts to someone with child, Palmer plays off both immaturity and secrecy: "You're big enough to stop pretending."
The Avett Brothers, "Matrimony," from Four Thieves Gone. Built on shimmering acoustic guitars, handclaps, whiny and unpolished vocals, and an unpromising chorus ("Do you still want my hand? / Do you think I'm still your man?"), this galloping country song shouldn't work at all. But its directness and intensity are endearing and undeniable, and it offers just the right amount of musical variety and lyrical specificity. The song hints at the difficulty of living with a working musician, using a pet first metaphorically and then as both a literal creature and a representation of responsibility: "My dog's loud and my dog's wild / We're too young to have a child / Can you keep the dog next week? / I'll be gone the next three." Download.
CSS, "Art Bitch," from Cansei de Ser Sexy. Delightfully carnal yet robotic grunt rock from this rough Brazilian band. Everything is askew in this gleeful send-up and embrace of artistic pomposity, from the opening moan of feedback (reminiscent of Sonic Youth) to its bleeping keyboards to vocalist Lovefoxxx's unreadable deadpan: "I am so hardcore / I sell my crap and people ask for more." Everything about the song is coarse and base, but it's not being confrontational and difficult in a vacuum. "Lick lick lick my art tit" might be a crude lyric, but it's appropriately crude in the context of the song. The line is first and foremost forcefully sexy, yet also condescending as hell. And it demonstrates the power of the rhythmic and aural components of language, particularly when matched with the right words.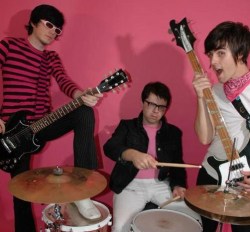 Pink Spiders, "Modern Swinger," from Teenage Graffiti. The best No Doubt song of the year, except written and performed by punkish guys from Nashville. Big, dumb glam trash with a fantastically catchy chorus that dares you to sing along and try to keep up, "Modern Swinger" is the perfect top-down summer song ... and not really dumb at all. As evidence, I offer the first chorus, with its way of making danger sound fun: "Yeah my baby's pretty as a car crash / Sexy as the stinger / Of a hornet in your arm / Just another modern swinger / Screaming 'Catch me if you can' / With a cigarette in hand / And it's love / It's heavy and it hurts / And it's love." And the second chorus, which surprises with its variation: "Yeah my baby's pretty as a car crash / Subtle as a splinter / Yeah my baby's smooth as sandpaper / Warm just like the winter." It's juvenile, but not without grace, maturity, or intelligence. Of the juvenile sort. Stream.
Ane Brun, "Rubber & Soul," from A Temporary Dive. A haunting, simple song that creates chills with humming. A Swedish version of Cat Power, Brun writes in English better than most native speakers, concrete yet ambiguous: "In my mind I'm crawling on your floor / Vomiting and defeated." The title seems to allude to the Beatles, but the stark setting — an acoustic guitar and Brun's controlled warble — and patient pace discredit the notion. An intensely visual lyric motif — "rubber bands around my soul" — beautifully expresses both restraint and freedom. Viscerally mournful and sad. Download.
Alejandro Escovedo, "Notes on Air," from The Boxing Mirror. Paired with Brun's song because of its "truce of rubber." An angry, squalling guitar is underscored by the bitterness of Escovedo's voice and a defiant cello, and the result is a controlled fury that we might expect if Neil Young & Crazy Horse learned some discipline and had a better singer. Escovedo didn't play this song at River Roots Live last year, but "Notes on Air" captures stage intensity in a way that studio recordings rarely do. It's not a matter of how quickly or loudly it's played, but of the emotion and conviction invested in both the material and its performance.
Bitter:Sweet, "Dirty Laundry," from The Mating Game. No Doubt meets Portishead in the sexiest, slinkiest track I heard all year, and no relation to the Don Henley song. It's a busy blend of breathy bedroom coos over horn/string synths and electronic bits, punctuated by brass and even giving way to a Latin piano-and-percussion break at one point. But it's Shana Halligan's singing that sucks you in and won't let go. Suggestive and sly, she turns lyrics that are at best marginally clever — "His dirty laundry's nothing that I can keep clean" — irresistible. Stream.
Clearlake, "I Hate It, I Got What I Wanted," from Amber. The best Queens of the Stone Age song of the year, except written and preformed by a British quartet. A nearly perfect driving rock song, obvious kin to Nirvana's "Smells Like Teen Spirit," or the Queens' "Go with the Flow" but with any rough edges buffed off. For hard-ish rock, the song is amazingly economical; the muted buzz-saw guitar intro mimics the melody of the fantastic chorus, as does the bulk of the guitar solo, with the interest generated primarily by variations of tone. If you've got something that works, why mess with it? Singer Jason Pegg can't quite sell the self-loathing and regret of the lyrics, but that core hook is gold. Stream. Download..
Slaid Cleaves, "Everette," from Unsung. Cleaves' Unsung album honors the efforts of other songwriters by bringing their work to a wider audience, and Steve Brooks' clever "Everette" is a lovely gem — an affectionate but unvarnished paean to poets. ("Some folks live so close to death / That you can swear you smell it on their breath.") The music is pleasantly rote, but it's mere background anyway, letting Cleaves' voice work its campfire magic. He's a natural storyteller, with tone and phrasing that beckon you, forcing you to listen more closely. As the song says, that's just what poets do.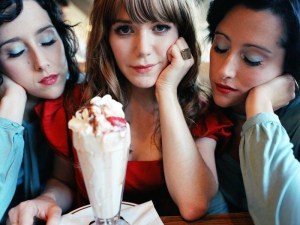 Jenny Lewis with the Watson Twins, "The Charging Sky," from Rabbit Fur Coat. An almost sickeningly sweet piece of country-pop tunecraft, with lyrics both confirming its good cheer and providing weight through observation and the sharp phrase. The song looks bemusedly at people trying to recapture idealism — "So my mom, she brushes her hair / And my dad starts growing Bob Dylan's beard" — and also invokes serious issues. But its brightness — including Lewis' assured, true, and uncomplicated singing — gives it an ambiguous allure. Stream.
Be Your Own Pet, "Adventure," from Be Your Own Pet. The best Yeah Yeah Yeahs song of the year, except written and performed by this group of Nashville whippersnappers. And if we can't have a great Yeah Yeah Yeahs song this year, this one will do nicely, fast and loose with a perfectly sloppy six-second guitar break. Be Your Own Pet singer Jemina Pearl has an uncanny vocal resemblance to Karen O, and the rest of the band is appropriately loud, spastic, and tuneful. Download.
Tapes 'n Tapes, "Cowbell," from The Loon. A wonderfully twisted pop ditty full of off-center touches, from the quivering vocals to the prominence of the bass as a melodic instrument to its itchy, anxious texture. It's a lot like Frog Eyes on an inadequate dose of Ritalin, and better for being ever-so-slightly tamer. Stream. Download.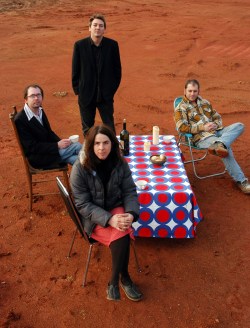 Elf Power, "Back to the Web," online only. This track — recorded in Rock Island, Illinois, for Daytrotter.com — has a gauzy, muffled lo-fi sound and a vocal tone that would fit right in on a Robert Pollard or Guided by Voices album. Georgia's Elf Power starts with a dreamy base of low-key instrumentation (with Celtic and Middle Eastern undertones) that slowly builds to an electric cacophony. An escalation rather than a verse-chorus-verse song, with a well-placed wave of distortion near the two-minute mark that feels utterly natural. Download.
TV on the Radio, "A Method," from Return to Cookie Mountain. We close with a great Peter Gabriel-Beach Boys collaboration arranged by Bobby McFerrin — but without Peter Gabriel, the Beach Boys, or Bobby McFerrin. With lead vocals reminiscent of Gabriel's peculiar marble-mouthed way around words, and some lovely, otherworldly harmonies, the track soars with sweetness, but it's punctuated and grounded by minimalist, insistent percussion — including subdued claps — that always keeps the listener off-guard. Download.
This article originally appeared in slightly different form in the River Cities' Reader.