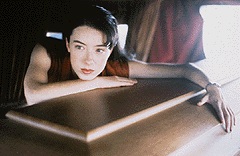 To slake your thirst for Culture Snob poetry, as well as the interactive, I have crafted multiple options for haiku based on Lynne Stopkewich's 1996 movie Kissed.
If you've never seen it or heard of it, I think you'll get the gist pretty quickly. And if you're a little rusty on the specifications of haiku, it's a line of five syllables followed by a line of seven syllables and then another line of five.
Please offer finished poems — or more line alternatives — in the comments.
Line 1 or 3:
Necrophilia


Necrophiliac


Death no barrier


Cold, stiff ecstasy


Dead intimacy


Formaldehyde stink


Intimacy dead


They can't feel a thing


Don't come a-knockin'


Sex is a dead end


Dancing in panties


Sex is no dead end


Your beau's crossing o'er
Line 2:
Molly Parker likes dead wood


If this coffin's a-rockin'


Compulsion not a desire


Intimacy will survive


Rigor mortis is the key


I like the stiff, silent type


Funeral-home staff are sick!


I prefer a dead embrace


Speak! Please tell me you love me


Your beau needs to cross over
(Thanks to Bride of Culture Snob for the Deadwood pun.)
My contribution:
Necrophiliac
Intimacy will survive
Your beau's crossing o'er.