An Interview with Jen Chapin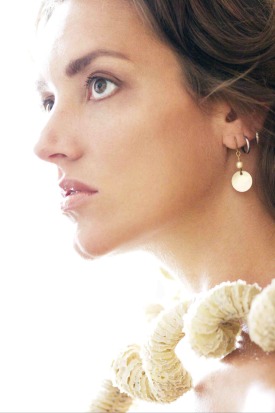 It's no surprise that Jen Chapin was pulled in several directions.
Her father, the late Harry Chapin, is most famous for writing and performing "Cat's in the Cradle" but was also a humanitarian, co-founding World Hunger Year in 1975. (He died in an automobile accident in 1981.)
Jen Chapin is following her own social-justice calling. She chairs the World Hunger Year board of directors, and on tour will sometimes lead events geared toward activists, such as an upcoming forum on "Music and Social Action" at a Unitarian church the morning after a show.
She got her bachelor's degree in international relations at Brown University before studying at the Berklee College of Music, and then took a teaching job at a private school in Brooklyn.
"If you look at my whole family, international relations makes as much sense as the music in a way," Chapin said in a phone interview last week. "What wouldn't seem so logical was if I was doing pre-med or pre-law." She noted that her father was "as much an activist as a musician."
Chapin said that she has always loved music, but she initially decided to pursue a teaching career. "I was interested in integrating all the different issues of the day and things I was concerned about," she said. "And the music was something I was always passionate about, but I didn't know if I had the kind of passion and drive to pursue a career in it, let alone the kind of talent."
That talent is abundantly clear now. She debuted with a live album in 2000, and then released the unadorned Open Wide with husband and bassist Stephan Crump in 2002. Linger, from 2004, was followed by last summer's Ready, which was written and recorded while Chapin was pregnant with her son Maceo.
She's a singer-songwriter who leans heavily on jazz, and although she's usually lumped in with folk artists, her sound is urban and sophisticated. In a music industry increasingly fixated on histrionics, Chapin's vocals and arrangements are carefully modulated and phrased, and they're frequently delicate. They could reasonably be called "naked," emphasizing her voice, lyrics, and instrumental choices.
Chapin's airy, generally muted tone makes a song such as Ready's "NYC" all the more impressive, with its swinging funk accomplished with a light, deft touch, while "To the New" is sparkling, spare, and lovely. The album is supremely confident, slightly off-center, and instantly compelling.
Given her interest in good causes, even her political songs are refreshingly grounded, not didactic in the least. "Election Day" is concerned not with issues but with the routines of activism: "Shared sport talk / Shared sandwiches / The roles we all assume / Respectful flirtations / One white plastic folding chair / The crispness of the brown leaves / The pale wilted air."
As thoughtful as Ready is, Chapin is a believer in the magic of the moment, choosing to track all her studio albums live with her band, with few overdubs. "All [the people in the band] come from a jazz background and are all perfectly capable of making wonderful, spontaneous decisions," she said. "To do the more-scripted, studio, layer-by-layer, fine-tune-every-note [approach], it seemed that was a waste of the resources I had. I really wanted to capture that live energy, which you don't get so much in music today, but it's my favorite part of music."
After finishing her undergraduate studies, Chapin said, she was accepted into Brown's graduate program in teaching but wanted to attend Berklee. "Can I defer for a year?" she asked the Ivy League university. "I just want to go to music school. I just want to learn some things. But then I'm going to be a teacher." Her goal was to "learn some theory, learn some skills, get some confidence as a songwriter and a bandleader, and then I'd be sort of moonlighting after my teaching job."
She was told that she could re-apply to the teaching program after music school, and that was one small push toward music. Still, after two years at Berklee, she took the teaching job in Brooklyn.
She kept at music and gradually shifted her focus to it. "It just became increasingly clear that it [music] was something that I couldn't really live without," she said. "But it was a very incremental process to decide to pursue music full-time. I was sort of hedging my bets, and always doing other things."
She's been a full-time musician for a decade now, but she's still hedging her bets. "I can always go back" to teaching, she said. "It's not a door that closes."
And she stressed that they're not all that different, teaching and music. "They're both performances. Standing in front of ... tough audiences. ... You always feel like you could be doing better. There's no room for complacency."
She's also committed to music as an agent of social change, as an educational tool. The political culture has become a minefield in which a failure to include boilerplate language — supporting the troops, opposing the terrorists — is seized upon as a gaffe. Music is one of the few arenas that allow genuine candor, Chapin said.
"Politics and civil service, there's so much compromise, and ... language becomes so weighted," she said. "You have to really script every line, for better or worse. And language has been so framed by the different sides. The Right side of the political spectrum has really framed what you can say and how. You always have to always specify that you're against the terrorists, and you have to say all these things that are at best useless and obvious. So much time is wasted hedging around certain truths."
Musicians, she said, are "given the opportunity to be totally truthful. ... If it [social discourse] was all through political debate ... our democracy would suffer."
And she still believes in that songs can be a powerful communal force. "I'm interested in the way that music practically serves to clarify our values, the ways that it can boost morale to a social movement, the ways that it can provide humor — sort of an ironic viewpoint," she said. "'We Shall Overcome' ... was sung while people were being set upon by dogs and hoses. It helps keep people unified and strong."
This article originally appeared in slightly different form in the River Cities' Reader.