(We have begun! Misunderstood Blog-a-thon Central is here!)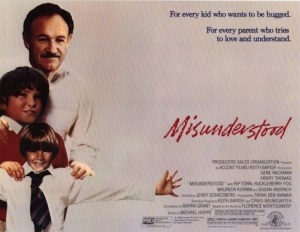 Have you ever read or heard a discussion of a movie that made you think, They just don't get it? Have you ever wondered, Am I the only person who saw the movie that way?
Culture Snob is hosting a forum for essays, arguments, and provocations on misunderstood movies. The blog-a-thon will run Wednesday, May 16, through Sunday, May 20, although I won't turn my nose up at contributions that arrive before then. All contributions are listed here.
The premise is that movies are marketed and evaluated coarsely and simplistically, and that they often contain a richness that's never mined by critics and casual audiences. Films operate on many levels, and subtle motifs, buried symbols, and seemingly awkward filmmaking choices are sometimes the keys that unlock new meanings. Is E.T. really a sophisticated exploration of diaspora? If "Rosebud" is both a sled and a clitoris, what does Citizen Kane say about sexual development among boys? How does the story of Pinocchio inform The Fisher King?
Give me your rigorous readings, your idiosyncratic analysis, and your silly, half-baked ideas.