(My new contribution to Edward Copeland's Star Wars Blog-a-thon. I also offered old essays on George Lucas' endless tinkering and Revenge of the Sith.)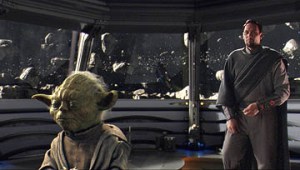 Is it possible that the failure of the second Star Wars trilogy has nothing to do with plot, character, and storytelling and everything to do with physical space?
Think of it this way: George Lucas was intimately involved in both trilogies, and they share certain negative characteristics: rote acting, rote writing, coarse storytelling. And consider: The key performers in the newer trilogy, even giving subpar turns, are easily better actors than Mark Hamill, Carrie Fisher, and Harrison Ford. The main difference between the trilogies is technological, in particular the replacement of physical special effects — models, composite shots, actors in front of filmed backgrounds — with digital. And most critical is the substitution of digital backgrounds for decorated-set and location shooting.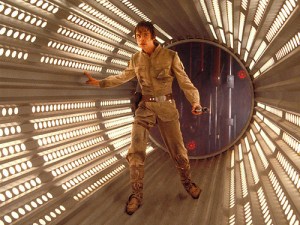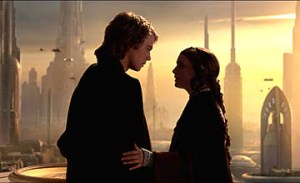 This gut feeling could be a function of age and familiarity as much as reality. I was six when Star Wars came out in 1977 and saw the movie eight or nine times in its initial release. I was 34 when Revenge of the Sith hit screens, and I haven't seen any of the latter trilogy more than once. I was the target market for the first trilogy, and too damned old for the second.
Still, as I thought about The Empire Strikes Back, my epiphany was the vividness of three locations: Hoth, Dagobah, and Cloud City. In the original trilogy, Death Star interiors and Jabba's lair are similarly seared into my memory. I can not only see these places, but I have an acute sense of their layout and can nearly envision myself in them.
In the newer trilogy, I can't recall the details of a single place.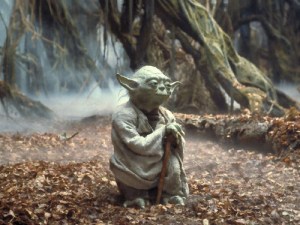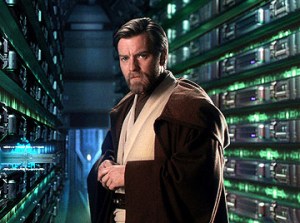 Settings are critical to the success or failure of science fiction and fantasy. Movie patrons have an obligation to suspend their disbelief, but filmmakers have a duty to facilitate that suspension and remove barriers to it. Convincing details sell a story, and the easiest way to help people immerse themselves in a foreign place is to help them feel like they're there.
And this is where Lucas fails in the "prequel" trilogy. The worlds he has created are more visually luminous, and more striking, and infinitely detailed, but they're less real, and they don't have any physicality. They're missing the third dimension, and that creates a barrier to immersion. They lack the force of tangibility.
On a practical level, this makes perfect sense. To film on a set, you need a set, and it needs to be not only conceived but planned and executed. Artistic renderings. Architectural drawings. Decisions about materials. Construction. Decoration. With digital backgrounds, filmmakers can skip several of those steps, and the result is often more whimsical — and not in the "fanciful" sense.
The need for less planning leads to fewer choices being made during filming than with a physical backdrop. And that means that the choreography of a given scene will be more generic, and less tied to a specific location, further divorcing the movie from a physical reality.
Even if we assume that professional actors are fully capable of engaging in a scene when the setting (and sometimes their co-stars) will be added later, the audience is still aware subconsciously of the failure to create a genuine place.