An Interview with G. Love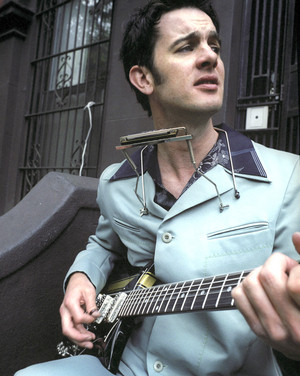 Some things are too embarrassing for public consumption, so the man born Garrett Dutton and known as G. Love exercised some control over the content of his new documentary and concert DVD, A Year & a Night with G. Love & Special Sauce.
When the director showed him his initial cut of the documentary portion of the DVD, coming it at roughly two hours, G. Love demanded that some material come out.
The running time was one concern, but image was another, G. Love admitted in a recent interview. "You've got to take this shit out," he told the director. "I don't want to come off like this."
But don't expect a scrubbed and polished portrayal of the shambling, Philadelphia-based bluesy hip-hop artist on the DVD, or in a conversation with him. If you want to be considered authentic, it's important to let people see your flaws. As G. Love said of the DVD, "You can't just paint your shit so it smells like roses. You've got to leave a little poop in there."
In the case of the DVD, the "poop" includes behind-the-scenes bickering between G. Love and Special Sauce bassist Jimi "Jazz" Prescott.
"I care about what I look like, what the band looks like, what the lights look like, what kind of aura and vibe we're giving off to the crowd," G. Love said. "It's show business. I'm putting on a show. If I want to just play music, which I love to do, I can sit in my room and play music. When I go on stage, it's like I'm going to work. ... I've got to put my stage clothes on."
Prescott, on the other hand, is "hardcore" and "looks like shit," G. Love said. The singer, guitarist, and harmonica player had to implore his bassist to get a haircut, put on different shoes, or change his shirt. "I have to sit him down a couple times [on the DVD] and be like, 'You need to shape this and this up,' and then he'll say how shallow I'm being, because it's about how he looks and not how he sounds."
And that's the hook of A Year & a Night with ... , due in stores July 31. "It documents the ups and downs of a touring band," G. Love said. "It's almost like a reality show of a touring band in a way. It's almost uncomfortable for me to watch at times, but it's true, and it's real."
That reality might not be unvarnished, but G. Love isn't much of a bullshitter. His band's self-titled major-label debut in 1994 spawned the hit video for "Cold Beverage" and was the group's commercial and possibly artistic high point, G. Love said.
"Every record kind of speaks for itself and for the time that we were having and how far my head was up my ass at the time," he said. That last bit is particularly true for 1995's Coast to Coast Motel and 2001's The Electric Mile, he said.
The latter CD marked the end of G. Love & Special Sauce's major-label tenure, and it was almost a self-fulfilling prophecy. G. Love said that after the band delivered what it felt was a strong album with commercial appeal in 1999's Philadelphonic, the label didn't support it. So Electric Mile was defiant. "Fuck the record industry," G. Love said. "That record was definitely not trying to be commercially viable at all."
G. Love landed on Jack Johnson's Brushfire label after that, and he said the new, more-personal environment suits him.
"I'm the kind of musician that really needs a thorough A&R [artist development] guy," G. Love said. "I trust them creatively big-time, and I value their opinion."
Getting honest feedback — and heeding that feedback — led to 2004's The Hustle, and G. Love liked the vibe so much that last year's Lemonade is an album he considers The Hustle Part II, but with a narrower scope than its forebear.
"Our groove is a little unfocused at times, because we're influenced by so many styles," he said. "Sometimes we let too many of those influences come out in the record, and it can be stylistically like a hodgepodge."
So for Lemonade, G. Love emphasized a "medium-tempo hip-hop backbeat," looking for a groove that did "not push things too hard."
He acknowledged that the topics of his songs can seem as omnivorous as the music, but he doesn't apologize for that.
"I write a lot of songs," he said. "I write serious songs, and I also write really lighthearted songs about everyday shit, like basketball or drinking or driving in your car ... and that comes from the blues influence.
"A John Lee Hooker record will take you everywhere," G. Love continued. "He'll sing a song about the war in Vietnam and how he doesn't think that's right, and he'll sing a song about how he's going to act like a crawling king snake and go make love to his old lady, and then he'll sing a song about how he's going to kill the guy that his old lady slept with, and then he'll sing a song about driving in his car. ... Blues is everyday life, and that's where I always took my songwriting bag from. People will [say], 'How can you write a song about food?' Well, you gotta eat. That's why I wrote it, 'cause it's something that everybody does every day, so you can relate to it."
Lemonade is also heavy with collaborations, featuring friends such as Johnson and Ben Harper. The CD "kind of represented a whole community of musicians that we've gotten to know over the past five or six years or so. ...
"Vibe-wise, knowing you're working with your friends, I like that," G. Love continued. "My manager is my best friend from second grade. ... I know that it's deeper than business with us. It's family.
"The people that I talk to the most every day are the people I work with and live with in my band," he said. "These are the people that become your closest friends. Eventually you're going to be friends with the people you work with anyhow, so you might as well make your friends the people you work with."
This article originally appeared (in slightly different form) in the River Cities' Reader.