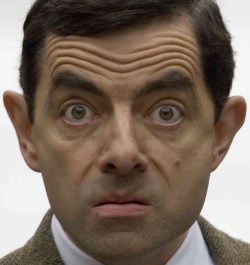 We'll use this week's Box Office Power Rankings — topped, for the fourth consecutive week, by The Bourne Identity — to illustrate how the formula works. To assist us: Mr. Bean, pictured to the right.
Now Mr. Bean's Holiday is no box-office smash in the United States (although it has made $200 million worldwide). In its opening weekend here, it landed in fourth place with a shade less than $10 million.
And Mr. Bean's Holiday is no hit with critics, either. On Rotten Tomatoes, only 51 percent of reviewers dubbed it "fresh," while Metacritic's composite score was a mediocre 56. (Mr. Bean is undoubtedly an acquired taste.)
So how does Mr. Bean's Holiday land third in Culture Snob's rankings? The movie was shown on only 1,714 screens last weekend, giving it a per-screen average of $5,770 — the second-highest in the box-office top ten. In our system, that performance is worth nine points, which is one more point than The Invasion got across all four criteria in this week's rankings.
In fact, had the Rowan Atkinson vehicle grossed $10.5 million in its first weekend, it would have topped even Superbad in per-screen average.
Box Office Power Rankings: August 24-26, 2007
(Rank) Movie (last week; box office, per-screen, Rotten Tomatoes, Metacritic: total)
(1) The Bourne Ultimatum (1; 9, 6, 10, 10: 35)
(2) Superbad (2; 10, 10, 7, 7: 34)
(3) Mr. Bean's Holiday (-; 7, 9, 5, 5: 26)
(4) The Simpsons Movie (3; 4, 4, 8, 8: 24)
(5) Hairspray (4; 2, 2, 9, 9: 22)
(6) Rush Hour 3 (5; 8, 7, 2, 2: 19)
(7) Stardust (6; 3, 3, 6, 6: 18)
(7) The Nanny Diaries (-; 5, 5, 4, 4: 18)
(9) War (-; 6, 8, 1, 1: 16)
(10) The Invasion (7; 1, 1, 3, 3: 8)
Methodology
Culture Snob's Box Office Power Rankings balance box office and critical reception to create a better measure of a movie's overall performance against its peers.
The weekly rankings cover the 10 top-grossing movies in the United States for the previous weekend. We assign equal weight to box office and critical opinion, with each having two components. The measures are: box-office gross, per-screen average, Rotten Tomatoes score, and Metacritic score.
Why those four? Box-office gross basically measures the number of people who saw a movie in a given weekend. Per-screen average corrects for blockbuster-wannabes that flood the market with prints, and gives limited-release movies a fighting chance. Rotten Tomatoes measures critical opinion in a binary way. And Metacritic gives a better sense of critics' enthusiasm (or bile) for a movie.
For each of the four measures, the movies are ranked and assigned points (10 for the best performer, one for the worst). Finally, those points are added up, with a maximum score of 40 and a minimum score of four.