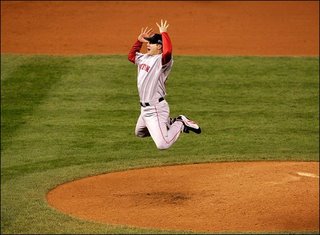 The morning after the Red Sox won the 2007 World Series (following two miserable seasons of championship drought), two people approached me in McDonald's. I was wearing a Red Sox shirt. We were in northern Arkansas, beginning an 11-hour drive north after a weekend of wedding festivities. Incidentally, I eat at McDonald's about as often as the Red Sox win the World Series.
One person wanted to know how Game 4 had come out. (Very well, thank you.) The other marveled at seeing another Red Sox fan in Arkansas. (Just visiting.)
I smiled and chatted with the people who talked to me, but it didn't feel like my team had just won the World Series.