An Interview with the Drive-By Truckers' Mike Cooley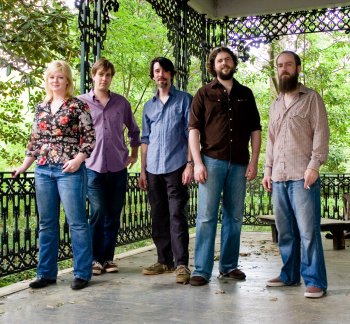 On "Puttin' People on the Moon," the Driver-By Truckers' Patterson Hood sings a litany of tragedies personal and regional: "Mary Alice got cancer just like everybody here / Seems everyone I know is gettin' cancer every year / And we can't afford no insurance, I been 10 years unemployed / So she didn't get no chemo so our lives was destroyed / And nothin' ever changes, the cemetery gets more full / And now over there in Huntsville, even NASA's shut down too."
The song is typical Drive-By Truckers: bleak, detailed, populist, Southern, and with enough twangy muscle that you can play it loud and ignore the skill of its songwriting and the loving attention it pays to the downtrodden, heard in the indignant desperation of Hood's damaged falsetto on the chorus.
And therein lies the tension of Drive-By Truckers: This is a band that writes great songs and then drowns them out with three blaring guitars.
"We kind of had two reputations: one for being this big, loud, aggressive rock-and-roll band, and then one for being a very song-oriented outfit," said Mike Cooley, a founding Drive-By Truckers member, guitarist, and songwriter, in a phone interview last month. Both he and Hood write dark, sharp stories in the Southern vernacular, "but I also love loud rock and roll, and sometimes those two elements don't always work together," Cooley said.
A desire to rescue songs from the din was the origin of the band's Dirt Underneath tour, in which the Drive-By Truckers turned down the amps as it prepared material for a new album, Lighter Than Creation's Dark, which the band wrapped in September.
"It put the songs themselves more out in the forefront, to where the audience, the fans were able to pick up on details of the songs and hear 'em in a different way than you can normally with the big, loud electric guitars going on all the time," Cooley said.
If previous records are any indication, there will be little light on Lighter. The band's songs feel authentic individually, but collectively they're so heavy that they become a little oppressive. (The lyric cited in this article's opening is not an outlier.) The Valentine's Day song "Feb. 14" opens with flowers being thrown across the room.
"If you're going to write anything ... there's got to be something that hits you on an emotional level," Cooley said. "And when people are happy, they're not that emotional."
(These folks are not humorless, though. An early record was titled Pizza Deliverance.)
The new album, Cooley said, will still sound like the Drive-By Truckers, but a little quieter. "It's a little different than our last few records — a little more similar to some of our earlier ones," he said. "It kind of goes back and forth between some more laid-back acoustic stuff and some bigger rock-and-roll things."
The Dirt Underneath tour followed the band's longest break in nearly a decade — a four-month layoff. "It was the longest consecutive number of months we've probably ever spent off the road," Cooley said. "We needed it, and it was good for creativity. It's hard to write on the road, coming on and off of it. You can't get yourself in that head space at all. I think we came up with our best batch of songs yet, largely due to the fact that we weren't on the road. We were able to settle in and think.
"Every time we would take a break before then, somebody would be having a baby. That's not really a break."
The relentless touring, he added, felt like a necessity."We were trying to build the thing, trying to build on what we had and build it farther, and we had to make a living," he said.
Drive-By Truckers came to national attention with the 2001 release of Southern Rock Opera, an ambitious double-disc set with the comparisons baked right in. On "Ronnie & Neil," the band pays tribute to two obvious influences: "Now Ronnie and Neil became good friends their feud was just in song / Skynyrd was a bunch of Neil Young fans and Neil he loved that song / So he wrote 'Powderfinger' for Skynyrd to record / But Ronnie ended up singing 'Sweet Home Alabama' to the Lord / And Neil helped carry Ronnie in his casket to the ground / And to my way of thinking, us Southern men need both of them around."
The band's recordings since then — 2003's Decoration Day, 2004's The Dirty South, and 2006's A Blessing and a Curse, are more of the same, which is a good thing. (To give some sense of their consistency, the All Music Guide has given each Drive-By Truckers recording since 1999 four and a half stars.)
It's not just Skynyrd and Young. A Blessing and a Curse's "Aftermath USA" could have come from the Eagles, helped by Hood's vocal resemblance to Don Henley. That album's "Wednesday" has the focused, driving fury of Bob Mould's Sugar (in which Truckers producer David Barbe played in the 1990s).
Cooley doesn't sound bothered by the "Southern rock" label. "We definitely got called a Southern rock band for a number of years because of that [Southern Rock Opera], and we didn't really want to be, but we had to admit that we maybe kind of asked for it, too."
But the Truckers are hardly standing still. They were the backing band for soul singer Bettye LaVette on her new record, The Scene of the Crime, released in September. The All Music Guide called the idea "a match made in hell" but finally decided that the "unlikely pairing was a match made in roadhouse heaven." (Rating: four and a half stars, of course.)
"I definitely feel like I'm better at everything I do because of that," the 41-year-old Cooley said. "It was the first time we'd been a backup band. ... We were contributing creatively, but we were also backing up a singer from a very different generation who's not a member of the band. So we had to adjust to her style of going about things, her approach."
He also said he's still learning. "Every time you make a record, you're better at it than you were the time before," he said. "That's why I love doing this, is you never figure it out. ... I know if you're not growing, you're dying."
This article originally appeared, in slightly different form, in the River Cities' Reader.