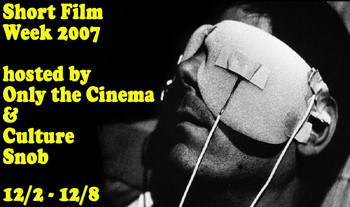 From December 2 through 8, Culture Snob and Ed Howard's Only the Cinema are hosting the Short-Film Week blog-a-thon.
The blog-a-thon is technically over, but late submissions are welcome.
(The initial announcements are here and here. Pick up your logos here.)
Bookmark this entry and Only the Cinema to keep up on all the goings-on.
Participating is simple. Step one: Write something about a short film, or several short films, or short films in general. Or, if writing's not your bag, do the Emersonian thing and create something else related to short film.
Step two: E-mail Ed and/or me (using the e-mail form or snob@culturesnob.net) with links to your contributions. Or leave comments here and/or on Ed's blog with links. If you're a troglodyte without a Web-publishing outlet, paste your writing into an e-mail message for me to post.
And if you're lazy, contribute links to your older critical assessments of short films, or other people's writing that you admire on short films. (Or other people's writing on short films that you admire.)
For my part, as with the Misunderstood Blog-a-thon, I'll be contributing try to contribute one new item for each day of the blog-a-thon.
Day 7: December 8, 2007
In Praise of the Music Video
: "I can't imagine a more efficient way for their effects to be achieved: a poignant look at the career of Johnny Cash, and a dead-on spoof of NFL Films. Sometimes and somehow, the music video can do things (beyond the song) that seem impossible in any other format, regardless if the aims are serious or silly." (By Culture Snob, but really by Mark Romanek and Evan Bernard.)
Dexter: Putting It Together: "We recognize his daily rites as things we all do every day, but they're rendered in such garish (Miami!) colors and macro-close-ups that they appear to us grotesque and purified, ultra-specific and abstractly universal, at the same time, like Pop Art." (On the opening-credits sequence of Dexter. By Jim Emerson, from the archives of Scanners.)
Don't Look Now!: "The act is so shockingly capricious and seemingly filled with unexplained maliciousness, that we almost don't notice a second later when a car crashes through that same flower stand." (On a commercial for Now magazine. By GCCR at Maul of America.)
Two Looney Tunes Cartoons: "This narration is a sign, right from the start, that this won't be a normal fairy tale cartoon, and the point is underscored when, moments later, the characters themselves revolt against the scenario, refusing to go through with yet another iteration of the same old story." (By Ed Howard at Only the Cinema.)
A recommendation: Schoolhouse Rock's "Figure Eight":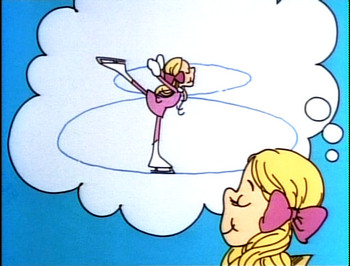 Day 6: December 7, 2007
Six Chuck Jones Cartoons
: "As the film goes on, breaking the fourth wall becomes absolutely destroying it, blowing it up and stomping on the remains, as the film breaks out every trick possible to disrupt the usual boundaries of the cartoon world." (By Ed Howard at Only the Cinema.)
Our Friend the Atom: "Nobody teaches science better than Disney. Schools would be well-served to show this gem to science classes anywhere from junior high to college survey courses." (By Jeffrey Hill at Liverputty.)
Victoria Beckham, My Ass: Andrea Arnold's Wasp: "[I]t's ... difficult to establish your subject without the hint of a paternal attachment, a strange level of affection and criticism. In Andrea Arnold's Wasp, her relationship with her subject is a deeply complex one." (By Joe Bowman at Fin de Cinema.)
Short of the Week: Sondhi wrote to tell us about this Web site, at which he is a reviewer. The slogan: "Your weekly ticket to the best online short films."
"What's Opera, Doc?": "It starts with an overture and ends with a quip; it is a short and an epic, a spoof and a heartfelt exemplar of the mode that it mocks ... ." (By Matt Zoller Seitz at The House Next Door.)
The Bar at the End of the Line: "His name is Sheldon Nadelman. He is not the subject of the 23-minute movie, but its character is drawn from him: lively, detailed, aloof, unfocused, and scattershot." (On Terminal Bar. By Culture Snob.)
A recommendation: Michel Gondry's video for Björk's "Bachelorette":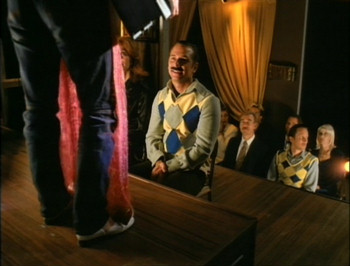 Day 5: December 6, 2007
Short Films by Mekas, Franju, Hestand, and DeMond
: "When the slaughterhouse workers walk up to the horse with a bolt gun and rapidly place it against the animal's head to kill it, does the audience think of the loving kiss that immediately preceded this scene?" (By Ed Howard at Only the Cinema.)
A Sweet, Whimsical, Dirty Movie About Rape or Regression: "Shrinking Lover is a gorgeously rich and manipulative metaphor, with its playful tone reflecting the nurse's mindset and turning an act of sexual violence into bawdy comedy." (By Culture Snob.)
Thanksgiving, with All the Fixings of a Short Film: "[S]ome see the much-enjoyed Grindhouse trailers as a bit of easter-egg fun. But, after seeing them a handful of times, I think Rodriguez and Tarantino aspire them to be (and in some cases, have each achieve being) their own short films." (By Is That So Wrong? at Is That So Wrong?)
Short Film Year: A Remembrance: "Since at least half of the movies I reviewed were basically amateur productions, I was a bit leery at first. What could be worse than sitting through some godawful amateur feature? I was happy to learn later that it was actually no worse than sitting through slick Hollywood dreck. Actually, it was more fun because every film, good or bad, was a surprise." (By Bob at Forward to Yesterday.)
Gumbasia, by Art Clokey: "The film's muscularity and energy make it easy to read as a forceful manifesto for clay as a medium, a sort of shot across Disney's bow: a way for Clokey to say 'anything you can do with drawings (and a huge studio), I can do just as effectively with clay (on my own here as a USC student).'" (By JPB at Too Many Projects Film Club.)
Greatest Hits: Peep! Peep!: "On his way to [yet another among tiny Sodor's impossibly many stations], [Engine X] grew more and more excited and started to sing a happy song. 'Oh, I'm going to pick up the [children, celebrants, performers, or party goods],' he sang as he chuffed along." (On Thomas the Tank Engine. By Bob Glickstein at gee bobg.)
The Man with the Golden Palm: "Raymond Red's Anino (Shadow, 2000) ... has an improvisatory feel; there are moments where you aren't sure what direction the story is going to take — and, you suspect, the filmmaker doesn't either." (By Noel Vera at Critic After Dark.)
A recommendation: the video for the Beastie Boys' "Intergalactic":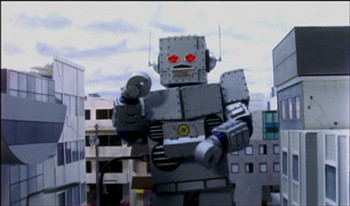 Day 4: December 5, 2007
Short Films by Haynes, Melville, and Levine
: "In light of Haynes' own homosexuality, it's tempting to read the film as a coming-out story, a chronicle of a young boy who will one day realize he's gay. But the film is by no means clear on that point ... ." (By Ed Howard at Only the Cinema.)
Shorts Films and the Academy — Last Year for Example: "[I]n the absence of a large audience base, the Academy Awards does not seem like the place to award unseen films. Maybe this is a consumeristic attitude rather than an artful attitude, but I believe the award show is cheapened when winners in short film ... are drawn from a small pool of films that no one has seen." (By RC at Strange Culture.)
On the Act of Seeing with One's Own Eyes, by Stan Brakhage: "[M]any of the images in this film are difficult to look at, and once seen, they are difficult to un-see." (By JPB at Too Many Projects Film Club.)
A Short Film About Failure: "My version [of Contact] uses the same source material but starts at the 33-minute, 25-second mark and ends at one hour, 26 minutes, and five seconds. It's a marvel of economy." (By Culture Snob.)
How Wan-Fô Was Saved (1987): "The animation is coarse. Laloux is not interested in smooth movements. His characters are limited in their mobility; most of the action is suggested by the narration which supplies a level of psychology to the immobile artworks. Yet with the little movement that is portrayed, the accuracy of human experience is felt." (By Oggs Cruz, from the archives at Lessons from the School of Inattention.)
Short Films and Their Current Presence at the Academy Awards: "[I]n this past decade there is no Walt Disney, at least not as I see it." (By RC at Strange Culture.)
Lucifer Rising 2: Bee Girls, Lifesize Cats, Busby Berkley, and Paris Hilton: Another 20 music videos, ranging from Blind Melon to Sonic Youth to Madonna. (By Joe Bowman at Fin de Cinema.)
A recommendation: the Brothers Quay's Stille Nacht IV: Can't Go Wrong Without You.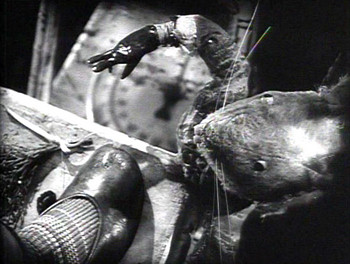 Day 3: December 4, 2007
Three Short Films by Hiroshi Teshigahara
: "As the film progresses, the visual style becomes more relaxed and measured. The camera gently flows across the surface of Hokusai's paintings, exploring the sweeping vistas of his landscapes." (By Ed Howard at Only the Cinema.)
Two Shorts by Maya Deren: "Her work ... clearly reveals a feminine poetry that tracks closely with the work of another genius woman of the cinema, Leni Riefenstahl." (By Marilyn Ferdinand at Ferdy on Films, Etc.)
Sitcom Themes and Broadway: "I feel the need to mention the uncanny resemblance between a sitcom's opening theme song, and the opening number to a Broadway musical." (By Filmbo at Filmbo's Chick Magnet.)
Quiet Bubble engages in the Culture Snob-approved, Culture Snob-tested practice of blog-a-thon recycling: Patrick Daughters' video for Feist's "1,2,3,4", Apichatpong Weerasethakul's Anthem, Stan Brakhage's The Act of Seeing with One's Own Eyes, Stan Brakhage's Window Water Baby Moving, and The Brothers Quay's Street of Crocodiles.
What Price Happiness: "Lost innocence might be the saddest thing I can think of. I rarely take photos because they are constant reminders of time gone by. Of things changing. Of compromises." (On the short film More. By Piper at Lazy Eye Theatre.)
A recommendation: Midnight Dance.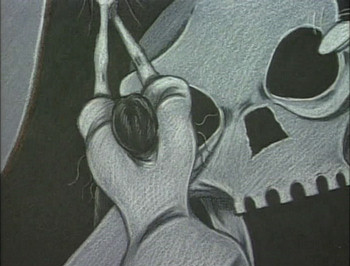 Day 2: December 3, 2007
Do You Like Surprises?
: "I didn't want my visual interpretation of the song supplanted by some arbitrary definition of what the song is 'about.' I should have trusted in Radiohead's discretion and put my silly trepidation to rest." (On the video for Radiohead's "No Surprises." By Chet Mellema at Under the Influence.)
Three "Free Cinema" Shorts: "Grigsby's playful disconnection of image and sound, mostly happening on a near-subliminal level, elevates what might've been a generic documentary to the level of visual poetry." (By Ed Howard at Only the Cinema.)
Lucifer Rising, Come Into My World; or Welcome the Children of Anger: "20 music videos that broke the mold, beamed with artistry (or, in some cases, extreme lack thereof), exploring possibilities instead of resorting to masturbatory showmanship." (By Joe Bowman at Fin de Cinema.)
Paris Je T'Aime ... Moi Non Plus: "Paris Je T'Aime sounded like an ambitious project ... [but] what we're left with, quite literally, is an unfinished, misstructured vision of the City of Lights with most of its directors seriously under- or over-estimating the medium of the short film." (By Joe Bowman at Fin de Cinema.)
Three videos by New Order: "For a band that removes emotion from their music, these three videos certainly manage to put a smile on my face every time." (By Bob Turnbull at Eternal Sunshine of the Logical Mind.)
"Gem" as Faint Praise: "Piet Kroon's 1997 short T.R.A.N.S.I.T. is a beautiful piece of visual craftsmanship that fails as art in any rational analysis." (By Culture Snob.)
A recommendation: Billy's Balloon.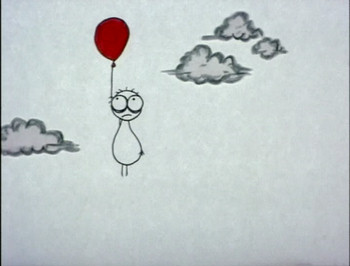 Day 1: December 2, 2007
Five short films
: works by Haynes, Leconte, Anger, and Rybczynski. (By Only the Cinema.)
The Addict: "Camera appears to be Cronenberg's most warm and human work. But it packs a lot into its running time, and, on closer inspection, it's a downer about submission to addiction." (By Culture Snob.)
Cigarettes, Cues, and Cinema: Filipino Shorts of 2007: "The short film, then thought of as inferior to the full-length feature [in the Philippines], has finally gained respect and attention in the country. Moreover, the advent of digital video has made it much easier for filmmakers to experiment with the medium. The result is an influx of short film works, mostly from students of the many film schools scattered around the archipelago." (By Oggs Cruz at Lessons from the School of Inattention.)
An opening recommendation: Tongues and Taxis.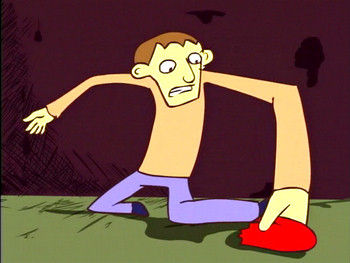 Pre blog-a-thon reading
Introductory thoughts on the "Short-Film Week" blog-a-thon.
(By event co-host Culture Snob.)
Scorsese's Key to Reserva. (By event co-host Only the Cinema.)
Magnolia writ small: the trailer as foreshadowing. (Excerpt from an unfinished piece from the Culture Snob archives.)