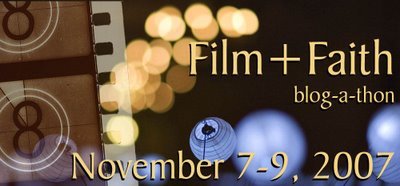 At Strange Culture, RC is hosting the Film + Faith Blog-a-thon, running through November 9. (The announcement is here.)
I'm hoping for a diverse, engaging, thoughtful, and provocative batch of essays, because the spiritual component of movies is critical but often neglected. People gravitate toward films that make them feel good — an effect on the soul — even if they typically don't examine the reasons. Sometimes we must decide how movies fit into our spiritual/moral world view, a topic that Will Gray explores in his lovely contribution.
I've resurrected (boooooooo!) old essays on morality and movies and the Exorcist prequels as offerings, and I plan to write at least one other thing. (This essay on Requiem probably fits, too. Hell, so does this thing I posted yesterday.) I wish the blog-a-thon were longer, because I have several other things I'd like to write about.