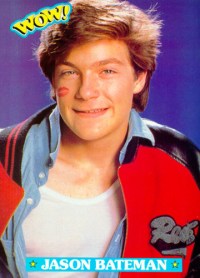 Even if it weren't against two of my least favorite movie personalities — Tim Burton and Nicolas Cage — I'd root for Juno just because of Jason Bateman. Look at his list of credits and see a sad litany of roles in things few people remember beyond the punchline of Teen Wolf Too. Arrested Development resurrected his career, but it also made Scott Baio and Henry Winkler look good; true redemption requires parlaying success into more success. (No, mere resurrection just isn't good enough these days, Jesus.)
Alas, because of its seriously limited release, Juno only finished second in this week's Box Office Power Rankings, trailing Burton's Sweeney Todd by the slimmest of margins.
But take heart, Silver Spoons fans! Juno did trounce Cage's sequel to National Treasure. And remember that these rankings were compiled only with the weekend numbers. A cursory look at the Friday-through-Christmas chart suggests that with its ninth-place box-office finish over the five-day holiday weekend, Juno likely would have tied Todd. But I'm too lazy to recalculate.
Box Office Power Rankings: December 21-23, 2007
(Rank) Movie (last week; box office, per-theater, Rotten Tomatoes, Metacritic: total)
(1) Sweeney Todd: The Demon Barber of Fleet Street (-; 6, 6, 8, 10: 30)
(2) Juno (-; 1, 9, 10, 9: 29)
(3) I Am Legend (1; 9, 8, 5, 6: 28)
(4) National Treasure: Book of Secrets (-; 10, 10, 3, 3: 26)
(4) Charlie Wilson's War (-; 7, 5, 7, 7: 26)
(6) Enchanted (3; 0, 2, 9, 8: 19)
(7) Alvin and the Chipmunks (6; 8, 7, 2, 1: 18)
(8) Walk Hard: The Dewey Cox Story (-; 3, 3, 6, 5: 17)
(9) P.S. I Love You (-; 5, 4, 1, 2: 12)
(10) The Golden Compass (5; 2, 1, 4, 4: 11)
Methodology
Culture Snob's Box Office Power Rankings balance box office and critical reception to create a better measure of a movie's overall performance against its peers.
The weekly rankings cover the 10 top-grossing movies in the United States for the previous weekend. We assign equal weight to box office and critical opinion, with each having two components. The measures are: box-office gross, per-theater average, Rotten Tomatoes score, and Metacritic score.
Why those four? Box-office gross basically measures the number of people who saw a movie in a given weekend. Per-theater average corrects for blockbuster-wannabes that flood the market with prints, and gives limited-release movies a fighting chance. Rotten Tomatoes measures critical opinion in a binary way. And Metacritic gives a better sense of critics' enthusiasm (or bile) for a movie.
For each of the four measures, the movies are ranked and assigned points (10 for the best performer, one for the worst). Finally, those points are added up, with a maximum score of 40 and a minimum score of four.