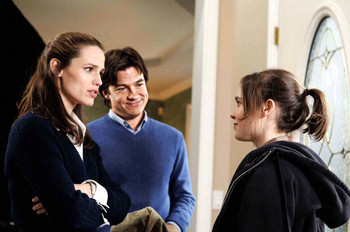 With inhuman Aliens, Predators, and Water Horses the only new things in wide release between Christmas and New Year's Day, the Box Office Power Rankings this past weekend was all about re-shuffling.
A cursory look at the rankings suggests that Juno is hot, and Sweeney Todd is not.
But a closer examination reveals some interesting trends: Almost all of Juno's gain (everything except one ranking point) was in overall box office, and all of Sweeney Todd's drop was in overall box office. In other words, with critical-opinion and per-theater-box-office positions staying the same (or nearly so), the ranking fortunes of the movies were dependent on their gross revenues for the weekend. So as much as I've tried to diminish box-office gross, it still beats my ass. Go figure.
Box Office Power Rankings: December 28-30, 2007
(Rank) Movie (last week; box office, per-theater, Rotten Tomatoes, Metacritic: total)
(1) Juno (2; 6, 10, 10, 9: 35)
(2) National Treasure: Book of Secrets (4; 10, 9, 4, 4: 27)
(3) Sweeney Todd: The Demon Barber of Fleet Street (1; 2, 6, 8, 10: 26)
(4) I Am Legend (3; 8, 7, 5, 5: 25)
(4) Charlie Wilson's War (4; 7, 5, 7, 6: 25)
(6) Alvin and the Chipmunks (7; 9, 8, 3, 3: 23)
(7) Enchanted (6; 1, 1, 9, 8: 19)
(8) The Water Horse: Legend of the Deep (-; 3, 2, 6, 7: 18)
(9) P.S. I Love You (9; 4, 3, 2, 3: 12)
(10) Aliens Vs. Predator: Requiem (-; 5, 4, 1, 1: 11)
Methodology
Culture Snob's Box Office Power Rankings balance box office and critical reception to create a better measure of a movie's overall performance against its peers.
The weekly rankings cover the 10 top-grossing movies in the United States for the previous weekend. We assign equal weight to box office and critical opinion, with each having two components. The measures are: box-office gross, per-theater average, Rotten Tomatoes score, and Metacritic score.
Why those four? Box-office gross basically measures the number of people who saw a movie in a given weekend. Per-theater average corrects for blockbuster-wannabes that flood the market with prints, and gives limited-release movies a fighting chance. Rotten Tomatoes measures critical opinion in a binary way. And Metacritic gives a better sense of critics' enthusiasm (or bile) for a movie.
For each of the four measures, the movies are ranked and assigned points (10 for the best performer, one for the worst). Finally, those points are added up, with a maximum score of 40 and a minimum score of four.