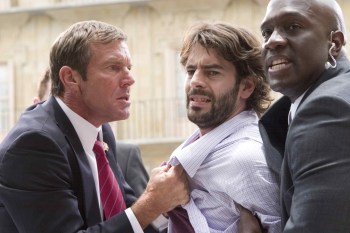 Vantage Point took first place this week with the lowest winning score in Box Office Power Rankings history. Granted, that's less than a year, but still ... .
Even though it earned 10 points (the highest possible score) in both overall and per-theatre box office, the political thriller only managed a total of 28 — one lower than There Will Be Blood's top mark four weeks ago, when it finished in ninth place in overall box office.
The lesson? Despite claims to the contrary, the movie-going public has at least decent taste. The average winning score in our system over 33 weeks has been 33.7, which means that even if every week's winner were the top box-office draw both overall and per-theatre, it still scored an average combined critics' rating of 13.7 in our two measures — or nearly 7 in each on a 10-point scale.
The "average" winner in the Box Office Power Rankings has had an overall-box-office score of 8.4, a per-theatre-box-office score of 8.7, a Rotten Tomatoes score of 8.4, and a Metacritic score of 8.2. In other words, these are movies that have performed well with both audiences and critics. Except Vantage Point.
Box Office Power Rankings: February 22-24, 2008
(Rank) Movie (last week; box office, per-theater, Rotten Tomatoes, Metacritic: total)
(1) Vantage Point (-; 10, 10, 5, 3: 28)
(2) Juno (2; 3, 5, 10, 9: 27)
(3) The Spiderwick Chronicles (1; 9, 6, 8, 2: 25)
(3) Jumper (6; 8, 7, 2, 8: 25)
(5) Step Up 2 the Streets (3; 7, 8, 4, 5: 24)
(6) Definitely, Maybe (3; 5, 4, 7, 7: 23)
(6) Be Kind Rewind (-; 2, 9, 6, 6: 23)
(8) There Will Be Blood (-; 1, 1, 9, 10: 21)
(9) Welcome Home Roscoe Jenkins (7; 4, 3, 3, 4: 14)
(10) Fool's Gold (8; 6, 2, 1, 1: 10)
Methodology
Culture Snob's Box Office Power Rankings balance box office and critical reception to create a better measure of a movie's overall performance against its peers.
The weekly rankings cover the 10 top-grossing movies in the United States for the previous weekend. We assign equal weight to box office and critical opinion, with each having two components. The measures are: box-office gross, per-theater average, Rotten Tomatoes score, and Metacritic score.
Why those four? Box-office gross basically measures the number of people who saw a movie in a given weekend. Per-theater average corrects for blockbuster-wannabes that flood the market with prints, and gives limited-release movies a fighting chance. Rotten Tomatoes measures critical opinion in a binary way. And Metacritic gives a better sense of critics' enthusiasm (or bile) for a movie.
For each of the four measures, the movies are ranked and assigned points (10 for the best performer, one for the worst). Finally, those points are added up, with a maximum score of 40 and a minimum score of four.