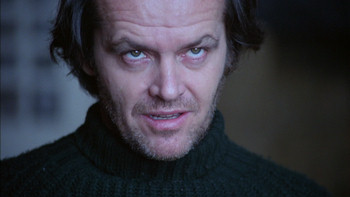 The turning point in The Shining comes when Jack Torrance encounters a woman in Room 237. Naked, lithe, and beautiful, she gets out of the bathtub and wordlessly approaches Jack. They kiss, but when Jack looks in the mirror, his arms are embracing a decaying old woman, flabby and with patches of her skin missing.
It's not your typical turning point. A heretofore pedestrian movie doesn't begin to redeem itself, and a previously engaging work doesn't go off the rails.
Instead, things start to get muddled. The movie becomes instantly less creepy — actually uncreepy in my eyes. The horror turns mundane. As Jack goes insane — or more insane, as Jack Nicholson's performance starts somewhere south of healthy — the casual, drunken violence of his past floods out furiously, dammed up for too long. It becomes clear that an abusive husband and father poses a graver physical danger than the ghosts of the Overlook Hotel.
More importantly, this juncture befuddles the audience's understanding of the supernatural elements — a confusion that's reinforced as the story progresses. And most critically, it expands the film's scope from a haunted-hotel and haunted-child narrative to something messier and richer.