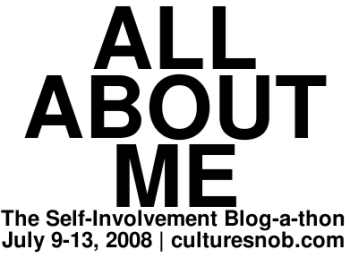 (Self-Involvement Central is here.)
To mark the fifth birthday of Culture Snob — born July 10, 2003 — I'll be hosting the Self-Involvement Blog-a-thon from Wednesday, July 9, to Sunday, July 13. (Previously, I initiated the Misunderstood Blog-a-thon and latched on to Only the Cinema's Short-Film Week Blog-a-thon.)
Put simply, the Self-Involvement Blog-a-thon is about the intersection of movies and life. My hope is that it will serve as a celebration of the power of the moving picture removed from the critical, cultural, and financial contexts in which it is typically considered.
Of course, we bring baggage whenever we talk or write about movies, but this is meant to be more personal — intensely idiosyncratic reactions and analyses, difficult times when movies became more than movies, brushes with movie stars, crushes on movie stars, memories from youthful encounters with film, embarrassing revelations, cinematic epiphanies, meticulous drawings of Darth Vader from your eight-year-old self, ... .
The only rule is that contributions have two central elements: movies and you.
Submissions (or promises of submissions) can be made in comments, through the Culture Snob e-mail form, or at snob@culturesnob.net. New work is encouraged, but moldy links are welcome, too.
And remember: For once, it is all about you.