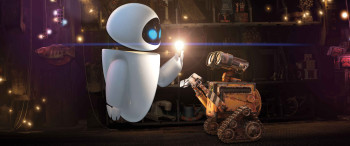 It will come as no surprise that WALL•E is the champion in this week's Box Office Power Rankings.
But there was one shock: Pixar's latest didn't earn a perfect score, because Wanted actually earned more money per theater. (The latter made $12 million less, but it showed in 800 fewer theaters.)
That's significant because they had offsetting disadvantages: WALL•E was handicapped by children's ticket prices, while Wanted was hamstrung by its R rating. So the per-theater take of Wanted has to be considered a major victory.
The rankings should get interestingly competitive in the coming weeks, as WALL•E and Kung Fu Panda will make it difficult for other movies to score 9s and 10s on the critical criteria; they have respective Rotten Tomatoes scores of 96 and 88, and Metacritic scores of 93 and 73.
Box Office Power Rankings: June 27-29, 2008
(Rank) Movie (previous week; box office, per-theater, Rotten Tomatoes, Metacritic: total)
(1) WALL•E (-; 10, 9, 10, 10: 39)
(2) Wanted (-; 9, 10, 7, 7: 33)
(3) Kung Fu Panda (1; 7, 7, 9, 9: 32)
(4) Get Smart (3; 8, 8, 5, 5: 26)
(5) Indiana Jones and the Kingdom of the Crystal Skull (4; 4, 4, 8, 8: 24)
(5) The Incredible Hulk (2; 6, 6, 6, 6: 24)
(7) Sex and the City (6; 2, 5, 4, 3: 14)
(8) The Love Guru (6; 5, 3, 1, 1: 10)
(8) You Don't Mess With the Zohan (6; 1, 1, 3, 5: 10)
(10) The Happening (6; 3, 2, 2, 2: 9)
Methodology
Culture Snob's Box Office Power Rankings balance box office and critical reception to create a better measure of a movie's overall performance against its peers.
The weekly rankings cover the 10 top-grossing movies in the United States for the previous weekend. We assign equal weight to box office and critical opinion, with each having two components. The measures are: box-office gross, per-theater average, Rotten Tomatoes score, and Metacritic score.
Why those four? Box-office gross basically measures the number of people who saw a movie in a given weekend. Per-theater average corrects for blockbuster-wannabes that flood the market with prints, and gives limited-release movies a fighting chance. Rotten Tomatoes measures critical opinion in a binary way. And Metacritic gives a better sense of critics' enthusiasm (or bile) for a movie.
For each of the four measures, the movies are ranked and assigned points (10 for the best performer, one for the worst). Finally, those points are added up, with a maximum score of 40 and a minimum score of four.