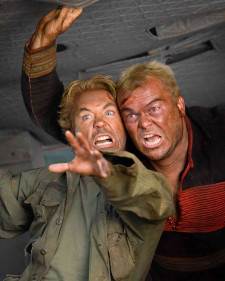 If we accept that there is some cachet associated with being THE NUMBER-ONE MOVIE IN THE COUNTRY!, why would a studio release a movie on Wednesday in August?
Last week, Pineapple Express and The Sisterhood of the Traveling Pants 2 debuted on Wednesday. The Dark Knight ($26.1 million) beat them both over the weekend — with Express earning $23.2 million from Friday to Sunday and Pants drawing $10.7 million.
But Pineapple Express had grossed $18.1 million through Thursday, meaning that after its first weekend, it stood at $41.3 million.
If a majority of the people who saw the movie on Wednesday and Thursday would have seen it in its first few days of release no matter what, a Friday-opening Express would have soundly beaten the Knight over the weekend.
So if Batman squeaks by the Wednesday-opening Tropic Thunder this weekend, the studio has only itself to blame.