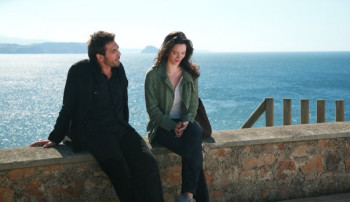 It's not a surprise that Tropic Thunder unseated The Dark Knight last weekend after four-week reigns atop the box-office charts and the Box Office Power Rankings. Good reviews, some protests, Ben Stiller, and a white-hot Robert Downey Jr. will do that, although its $40-million six-day take has to be considered something of a disappointment in light of its $92-million production budget.
What isn't a disappointment is Woody Allen, who sneaked into the box-off top 10 and landed in third place in our rankings. With Vicky Cristina Barcelona showing in just 692 locations — earning the second-best per-theater average of the weekend — Woody rode good reviews to a great showing. A weekend gross of $3.8 million isn't much, but that's the beauty of the Box Office Power Rankings: Three out of four ain't bad at all.
Just ask George Lucas and Keifer Sutherland, whose new movies scored within three points of each other (and low) on both critical measures and were less than 50 bucks apart on per-theater average. The Clone Wars' higher theater count gave it the overall-box-office edge on Mirrors, but neither will be bragging: They finished fifth and sixth in the rankings.
Box Office Power Rankings: August 15-17


Box Office Ranks
Critics' Ranks


Rank
Movie
Last Week
Gross
Per Theater
Rotten Tomatoes
Metacritic
Total
1
Tropic Thunder
-
10 ($25.8M)
10 ($7.8K)
9 (84)
9 (71)
38
2
The Dark Knight
1
9 ($16.4M)
8 ($4.6K)
10 (94)
10 (82)
37
3
Vicky Cristina Barcelona
-
1 ($3.8M)
9 ($5.4K)
8 (80)
8 (70)
26
4
Pineapple Express
2
6 ($9.8M)
5 ($3.2K)
7 (68)
7 (64)
25
5
Star Wars: The Clone Wars
-
8 ($14.6M)
7 ($4.2K)
3 (18)
2 (35)
20
6
Mirrors
-
7 ($11.2M)
6 ($4.2K)
2 (15)
3 (36)
18
7
The Sisterhood of the Traveling Pants 2
3
3 ($5.8M)
2 ($2.1K)
6 (63)
6 (63)
17
7
Mamma Mia!
5
4 ($6.1)
3 ($2.2K)
5 (54)
5 (51)
17
9
The Mummy: Tomb of the Dragon Emperor
8
5 ($8.2M)
4 ($2.4K)
1 (11)
1 (31)
11
9
Step Brothers
5
2 ($4.8)
1 ($1.8K)
4 (50)
4 (50)
11
Methodology
Culture Snob's Box Office Power Rankings balance box office and critical reception to create a better measure of a movie's overall performance against its peers than gross receipts alone.
The weekly rankings cover the 10 top-grossing movies in the United States for the previous weekend. We assign equal weight to box office and critical opinion, with each having two components. The measures are: box-office gross, per-theater average, Rotten Tomatoes score, and Metacritic score.
Why those four? Box-office gross basically measures the number of people who saw a movie in a given weekend. Per-theater average corrects for blockbuster-wannabes that flood the market with prints, and gives limited-release movies a fighting chance. Rotten Tomatoes measures critical opinion in a binary way. And Metacritic gives a better sense of critics' enthusiasm (or bile) for a movie.
For each of the four measures, the movies are ranked and assigned points (10 for the best performer, one for the worst). Finally, those points are added up, with a maximum score of 40 and a minimum score of four.