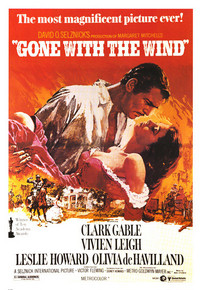 Because nobody has pushed The Dark Knight off its perch (either in the weekly box-office-receipts charts or in our Box Office Power Rankings) ... .
When Batman ($445 million through August 11) knocks Star Wars ($461 million) off as the second-highest-grossing movie in domestic-box-office history — which should happen this weekend — please keep the accomplishment in perspective.
Adjusted for ticket-price inflation, The Dark Knight at that point will still need nearly $130 million in additional gross before it even cracks the top 20. And it will need roughly $800 million more to catch Star Wars in inflation-adjusted revenues ($1.26 billion).
But let's keep that in perspective. The Dark Knight exists in a culture with frenzied competition for your attention and your leisure dollars. When Star Wars opened, the moving-picture options available in my house were limited to three networks and the three other movies playing at our local cinema.
So while I don't think it's fair to say with a straight face that The Dark Knight will have beaten Star Wars at the box office after this weekend, it's just as unfair to say it's almost a billion dollars short of Gone with the Wind ($1.43 billion in inflation-adjusted receipts). The truth lies somewhere in between.
Box Office Power Rankings: August 8-10


Box Office Ranks
Critics' Ranks


Rank
Movie
Last Week
Gross
Per Theater
Rotten Tomatoes
Metacritic
Total
1
The Dark Knight
1
10 ($26.1M)
9 ($6.5K)
9 (94)
9 (82)
37
2
Pineapple Express
-
9 ($23.2M)
10 ($7.6K)
8 (69
8 (64)
35
3
The Sisterhood of the Traveling Pants 2
-
7 ($10.7M)
7 ($3.9K)
7 (65)
7 (63)
28
4
WALL•E
5
2 ($3.1M)
2 ($1.5K)
10 (97)
10 (93)
24
5
Step Brothers
2
6 ($9.1M)
6 ($2.9K)
4 (51)
4 (50)
20
5
Journey to the Center of the Earth
2
4 ($4.9M)
4 ($2.5K)
6 (61)
6 (57)
20
5
Mamma Mia!
2
5 ($8.2M)
5 ($2.6K)
5 (54)
5 (51)
20
8
The Mummy: Tomb of the Dragon Emperor
6
8 ($16.5M)
8 ($4.4K)
1 (11)
1 (31)
18
9
Hancock
8
3 ($3.3M)
3 ($1.5K)
2 (38)
3 (49)
11
10
Swing Vote
7
1 ($3.1M)
1 ($1.4K)
3 (39)
2 (47)
7
Methodology
Culture Snob's Box Office Power Rankings balance box office and critical reception to create a better measure of a movie's overall performance against its peers than gross receipts alone.
The weekly rankings cover the 10 top-grossing movies in the United States for the previous weekend. We assign equal weight to box office and critical opinion, with each having two components. The measures are: box-office gross, per-theater average, Rotten Tomatoes score, and Metacritic score.
Why those four? Box-office gross basically measures the number of people who saw a movie in a given weekend. Per-theater average corrects for blockbuster-wannabes that flood the market with prints, and gives limited-release movies a fighting chance. Rotten Tomatoes measures critical opinion in a binary way. And Metacritic gives a better sense of critics' enthusiasm (or bile) for a movie.
For each of the four measures, the movies are ranked and assigned points (10 for the best performer, one for the worst). Finally, those points are added up, with a maximum score of 40 and a minimum score of four.