(This article dates from late January 2008, when it was published, in slightly different form, in the River Cities' Reader. Ra Ra Riot's debut album, The Rhumb Line, is out today on Barsuk Records.)
Ra Ra Riot (an interview)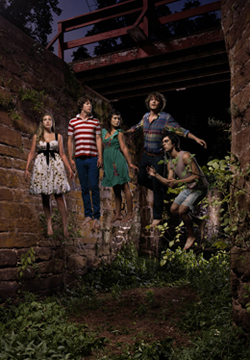 The future of Ra Ra Riot sounds as if it's in doubt.
The New York group has an album that's being mixed and mastered, but it doesn't have a label. The band is hoping for a May release, but that could be pushed to September. It's now considering its options — such as self-releasing a digital version of the album — if it doesn't find a corporate home soon. It wants the album out there, but it wants a label push, too.
"We don't want to sit on this record forever," said guitarist Milo Bonacci last week. The band plans to take some time to write new songs next month, but "to make sure that [a second record] is even going to happen, this album needs to get off the ground, and we need to tour to support it."
If this sounds like standard unsigned-band talk, it is.
And it isn't. In June, 23-year-old Ra Ra Riot drummer John Pike died under mysterious circumstances after leaving a party following a show in Rhode Island. His body was found in nearby Buzzard's Bay, and his family said that he wasn't a good swimmer.
The band recorded the album late last year, as it had planned to do before Pike's death. "We had been talking about recording in the fall probably since April or May," Bonacci said. "It's hard to say that we knew that's what we needed to do, but that's what we felt we should be doing, is continuing on. Sometimes even after that it was hard to know whether we were doing the right thing."
Bonacci said the band's dynamics "definitely have changed" since Pike's death. "John offered a lot of ideas, in terms of melodic ideas, or chord structures, or lyrics. He was a huge part of the songwriting process."
Ra Ra Riot performed a benefit last month — with Vampire Weekend and Tokyo Police Club — for the John Ryan Pike Memorial Foundation, which the Pike family hopes will "build a library of musical instruments for underprivileged kids or amateurs," Bonacci said. "It's modeled after what John was like as a person."
The foundation, he said, is an effort of Pike's family, but the benefit concert could become an annual event. "We're trying to do our part," he said.
Ra Ra Riot's decision to move forward with the record was obviously difficult, but there's no doubt that the musical landscape is richer because of it. The band's self-titled EP — released a month after Pike's death — features prominent strings and a left-field aesthetic that recalls an anxious, pumped-up Andrew Bird.
The EP's sound is compressed and egalitarian, with a glockenspiel given the same prominence as guitar and violin on the driving "Everest," and strings taking an aggressive melodic lead on "A Manner to Act," over a backdrop of muted, fuzzed guitar. Guitar and bass throb gently on "Ghost Under Rocks," further softened by carefully orchestrated voices. There is a creepy factor, too, as one of the songs is titled "Dying Is Fine."
The album, Bonacci promises, "sounds a bit more cohesive as a full unit, and maybe a little more developed. ... We had a little more time to figure out the sound of the individual instruments or the songs themselves."
While some songs from the EP are repeated, other, sparser tracks have been added — one featuring mostly organ and vocals, another emphasizing strings and vocals. "We were exploring the spectrum of sonic possibilities and trying to come up with a good balance," he said.
Bonacci said the band has received label offers before, but "nothing that we were too interested in doing. ... We're waiting until the right one comes along."