Chris Thile of the Punch Brothers (an interview)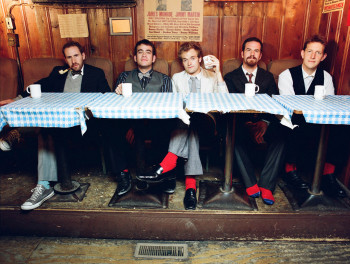 Chris Thile doesn't like musical boundaries, and the mandolin player seems to almost relish pissing off those who would prefer to pigeonhole him.
On Punch, the first recording released under the name Punch Brothers but the second performed by Thile and this particular quartet of musicians, the centerpiece is a four-part, 42-minute suite that fuses classical structures with a bluegrass style.
In an interview last week, Thile's shrug was almost audible when he was asked about how fans of his previous work with the platinum-selling Nickel Creek were reacting to this ambitious work.
"Losing people was going to happen," he said.
He's not being difficult. Rather, he said he became less concerned with commercial success and the like.
At the end of his marriage, he said, "music became a lot more important to me, and I wanted to start approaching it with the same level of intensity that I'd approached my failing relationship. I felt like it'd actually taken a back burner for a little while.
"I wanted to write something that used every ounce of my ability and energy and that would challenge me as a musician."
So he set out to compose "The Blind Leaving the Blind," which he envisioned as an expansive piece and "a summary of my musical interests to date. ... I know of so few examples of long-form composition in the folk world. ... Why shouldn't we have examples that reflect that?"
The premise was that "traditional folk song structures that support three or four minutes of music can be incorporated into longer pieces, structures that support a great deal of music," Thile said. "They can live hand-in-hand.
"It's difficult, and I don't necessarily think I always succeeded ... ."
While most compositions are built to accommodate their themes and ideas, Thile started with the length. "All I really knew was that I wanted it to take a certain amount of time," he said. "That was the initial challenge to myself" — a cohesive, 40-minute piece.
What he didn't know initially was "what the exact nature of the piece would be ... until I met the rest of the guys" in the band. He thought it might be something for solo performance.
"I didn't know of anybody who could read [music] and improvise and sing," he said of assembling a band. "I didn't know those people."
He found them in fiddler/violinist Gabe Witcher, guitarist Chris Eldridge, bassist Greg Garrison, and banjo player Noam Pikelny. Thile said it was important to know that his collaborators were "musicians that could handle whatever I could dream up. There weren't going to be serious obstacles in the way of realizing anything that I could think of."
"The Blind Leaving the Blind" was developed over 18 months, Thile said, although it might have taken just a few months if he'd worked on it full-time.
The scale was something Thile had never attempted. "I was petrified of really trying and really putting myself out there and exposing myself to the reality of music-making on that ambitious a level," he said. "It's definitely the most intense relationship I've had with music."
His models included Bartók's Concerto for Orchestra ("a marvel in fair distribution among sections of an ensemble"), the third movement of Debussy's String Quartet ("about as lovely a take on Western tonality as there is"), and Brahms' third and fourth symphonies ("Brahms is such a great developer"). But it also includes the influences of folk and bluegrass and Radiohead and Wilco, and Thile said that it remains accessible.
"I don't think the music is that esoteric," he said. "In the realm of music written in the 20th Century, it's pretty normal tonally and harmonically, and even structurally. Maybe it's really weird if all you've heard is folk music."
The band warmed up with 2006's How to Grow a Woman from the Ground, which featured Thile originals alongside songs by the White Stripes, The Strokes, and Willie Dixon. The album — released under Thile's name — was what its leader has called "spring training":"That record really served to solidify our perceptions of ourselves as a band. That record was right in our wheelhouse. ... That was something we all felt positive that we could do. ... We needed something a little bit more comfortable for the first go-round."
"The Blind Leaving the Blind" was originally envisioned as a one-time collaboration, and the record in full. But Punch also features four band-written tracks, and Thile said he and the members are already working on material for the next Punch Brothers record, which he said will likely include another long-form piece.
"It's an ongoing process," he said. "The Blind Leaving the Blind" is "in a way to me ... just a big arrow, not a destination but the direction we're headed."
(This article originally appeared in the River Cities' Reader.)