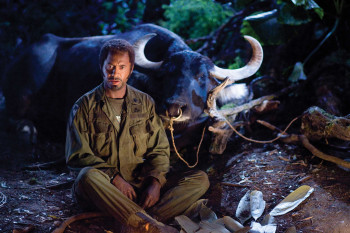 If Tropic Thunder repeats as Box Office Power Rankings champion this weekend, it will match The Dark Knight with titles in four consecutive weeks. (Iron Man topped the charts for five straight weeks earlier this summer.)
This points out one of the flaws of our system: Box Office Power Rankings have no sense of scale. After 20 days, Ben Stiller's comedy earned $87 million domestically to Batman's $411 million. Christopher Nolan's movie received better reviews. Yet in the eyes of the Box Office Power Rankings, they could soon be equals. It just isn't fair, is it?
This is partly by design. One goal of this system is to level the playing field, to give underdogs a shot at Culture Snob glory.
Alas, no amount of playing-field leveling could help this past weekend's releases, with Babylon A.D. and Disaster Movie earning a combined Rotten Tomatoes score of 4. That's a lot of sucking.
So will Tropic Thunder come out on top once again? With only the Pang Brothers' remake of their own Bangkok Dangerous opening wide this weekend, it has an excellent shot. Critics tend to be dismissive of Nicolas Cage action flicks, and the movie's studio won't be screening it for them. You know, because they want audiences to be surprised.
So call your bookie: Tropic Thunder will end up at least as big as The Dark Knight! Four-time champion!
And if it equals Iron Man's five-week run, I'll make Stiller a plaque.
(I just checked the release calendar, and I'll be rooting for the Coen Brothers, Robert DeNiro, Al Pacino, Tyler Perry, and women everywhere. Plaque construction is not my strong suit.)
Box Office Power Rankings: August 29-September 1
Box Office Ranks
Critics' Ranks
Rank
Movie
Last Week
Gross
Per Theater
Rotten Tomatoes
Metacritic
Total
1
Tropic Thunder
1
10 ($14.6M)
9 ($4.2K)
9 (83)
9 (71)
37
2
The Dark Knight
2
8 ($11.1M)
8 ($4.0K)
10 (94)
10 (82)
36
3
Traitor
-
6 ($10.0M)
10 ($4.9K)
7 (55)
7 (60)
30
4
The House Bunny
3
7 ($10.2M)
7 ($3.8K)
4 (39)
6 (55)
24
5
Pineapple Express
4
2 ($4.4M)
2 ($2.2K)
8 (68)
8 (64)
20
6
Babylon A.D.
-
9 ($11.5M)
6 ($3.4K)
2 (4)
2 (27)
19
6
Death Race
5
5 ($7.9M)
5 ($3.1K)
5 (40)
4 (42)
19
8
Mamma Mia!
6
3 ($5.4M)
4 ($2.8K)
6 (54)
5 (51)
18
9
Disaster Movie
-
4 ($6.9M)
3 ($2.6K)
1 (0)
1 (17)
9
10
Star Wars: The Clone Wars
8
1 ($3.8M)
1 ($1.5K)
3 (20)
3 (35)
8
Methodology
Culture Snob's Box Office Power Rankings balance box office and critical reception to create a better measure of a movie's overall performance against its peers than gross receipts alone.
The weekly rankings cover the 10 top-grossing movies in the United States for the previous weekend. We assign equal weight to box office and critical opinion, with each having two components. The measures are: box-office gross, per-theater average, Rotten Tomatoes score, and Metacritic score.
Why those four? Box-office gross basically measures the number of people who saw a movie in a given weekend. Per-theater average corrects for blockbuster-wannabes that flood the market with prints, and gives limited-release movies a fighting chance. Rotten Tomatoes measures critical opinion in a binary way. And Metacritic gives a better sense of critics' enthusiasm (or bile) for a movie.
For each of the four measures, the movies are ranked and assigned points (10 for the best performer, one for the worst). Finally, those points are added up, with a maximum score of 40 and a minimum score of four.