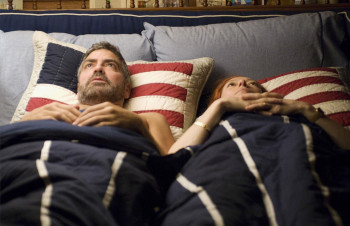 Much has been written over the past 18 months about the death/irrelevance of film criticism in print media, as newspapers scaled back their movie coverage and Premiere stopped publishing a print edition.
The refrain has been that movie critics are out-of-touch and elitist, that they don't reflect the values and tastes of audiences, etc., etc.
While that might appear true when Bangkok Dangerous tops the box office (as it did the first weekend in September), the truth is a little more complicated. Numerous (mostly unscientific) studies have found a correlation between box-office performance and critical reception.
Don't read a cause-and-effect relationship into this and claim that audiences follow critics — that criticism matters because it affects audience behavior. Instead, let's just note that audience behavior and critical reception often hook up.
For instance, the top movie at the box office this weekend was the Coen brothers' Burn After Reading (also our Box Office Power Rankings champion), followed by Tyler Perry's The Family That Preys, the decades-late Pacino/De Niro thriller Righteous Kill, and The Women. Check those opening movies' Rotten Tomatoes and Metacritic scores, and you'll see a pattern. Whether you're looking at gross or two measures of critical evaluation, they follow the exact same order. Freaky.
Box Office Power Rankings: September 12-14
Box Office Ranks
Critics' Ranks
Rank
Movie
Last Week
Gross
Per Theater
Rotten Tomatoes
Metacritic
Total
1
Burn After Reading
-
10 ($19.1M)
9 ($7.2K)
8 (78)
8 (62)
35
2
Tyler Perry's The Family That Preys
-
9 ($17.4M)
10 ($8.4K)
7 (52)
5 (51)
31
3
The Dark Knight
1
4 ($4.1M)
6 ($1.9K)
10 (95)
10 (82)
30
4
Tropic Thunder
2
6 ($4.2M)
4 ($1.4K)
9 (84)
9 (71)
28
5
Righteous Kill
-
8 ($16.3M)
8 ($5.2K)
3 (23)
3 (37)
22
6
The House Bunny
5
5 ($4.2M)
5 ($1.5K)
5 (40)
6 (55)
21
7
Traitor
3
2 ($2.1M)
3 ($1.1K)
7 (52)
7 (60)
19
8
The Women
-
7 ($10.1M)
7 ($3.4K)
2 (10)
2 (27)
18
9
Death Race
8
1 ($2.1M)
2 ($1.0K)
4 (38)
4 (42)
11
10
Bangkok Dangerous
4
3 ($2.6M)
1 ($1.0K)
2 (10)
1 (24)
7
Methodology
Culture Snob's Box Office Power Rankings balance box office and critical reception to create a better measure of a movie's overall performance against its peers than gross receipts alone.
The weekly rankings cover the 10 top-grossing movies in the United States for the previous weekend. We assign equal weight to box office and critical opinion, with each having two components. The measures are: box-office gross, per-theater average, Rotten Tomatoes score, and Metacritic score.
Why those four? Box-office gross basically measures the number of people who saw a movie in a given weekend. Per-theater average corrects for blockbuster-wannabes that flood the market with prints, and gives limited-release movies a fighting chance. Rotten Tomatoes measures critical opinion in a binary way. And Metacritic gives a better sense of critics' enthusiasm (or bile) for a movie.
For each of the four measures, the movies are ranked and assigned points (10 for the best performer, one for the worst). Finally, those points are added up, with a maximum score of 40 and a minimum score of four.