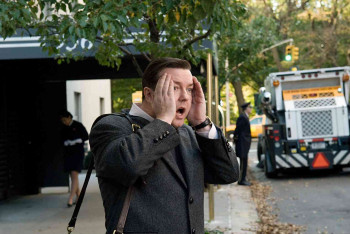 If you glance at the box-office top 10 this week, you might think that the supernatural romantic comedy Ghost Town was a bomb, finishing last among the four major new releases and eighth overall. But the movie's title was almost a self-fulfilling prophecy, as Paramount/DreamWorks only exhibited it in 1,505 theatres — a sure sign the studio doesn't believe in the movie. (Its opening-weekend competitors — Lakeview Terrace, Igor, and My Best Friend's Girl — were all released in more than 2,300 theatres.)
Given a wider release and more marketing money, Ghost Town would likely have been a modest hit, easily making back its $20-million production budget in theaters. Consider that it was second-best-reviewed movie in the top 10 (behind only The Dark Knight), and that audiences liked it, too. Yahoo! users rated it B+ (compared to grades of B and B- for the other three big releases), while users of the Internet Movie Database gave it a 7.5 out of 10 (compared to a range of 5.2 to 6.5 for the new-release competition).
It's unlikely that Ghost Town would have overtaken Burn After Reading in our Box Office Power Rankings this week with a more aggressive release, but its performance would have better reflected how people actually felt about it. This is a poster child for mis-released movies.
Box Office Power Rankings: September 19-21
Box Office Ranks
Critics' Ranks
Rank
Movie
Last Week
Gross
Per Theater
Rotten Tomatoes
Metacritic
Total
1
Burn After Reading
1
9 ($11.0M)
9 ($4.2K)
8 (79)
8 (62)
34
2
Lakeview Terrace
-
10 ($15.0M)
10 ($6.1K)
5 (40)
5 (46)
30
3
Ghost Town
-
3 ($5.0M)
6 ($3.3K)
9 (86)
9 (72)
27
4
Tyler Perry's The Family That Preys
2
5 ($7.3M)
8 ($3.5K)
7 (53)
6 (49)
26
5
The Dark Knight
3
2 ($2.9M)
2 ($1.5K)
10 (95)
10 (82)
24
6
Igor
-
7 ($7.8M)
7 ($3.3K)
4 (28)
4 (42)
22
7
My Best Friend's Girl
-
8 ($8.3M)
5 ($3.2K)
1 (8)
3 (36)
17
8
Righteous Kill
5
6 ($7.4M)
4 ($2.4K)
3 (22)
3 (36)
16
9
The House Bunny
6
1 ($2.7M)
1 ($1.0K)
6 (41)
7 (55)
15
10
The Women
8
4 ($5.4M)
3 ($1.8K)
2 (10)
1 (27)
10
Methodology
Culture Snob's Box Office Power Rankings balance box office and critical reception to create a better measure of a movie's overall performance against its peers than gross receipts alone.
The weekly rankings cover the 10 top-grossing movies in the United States for the previous weekend. We assign equal weight to box office and critical opinion, with each having two components. The measures are: box-office gross, per-theater average, Rotten Tomatoes score, and Metacritic score.
Why those four? Box-office gross basically measures the number of people who saw a movie in a given weekend. Per-theater average corrects for blockbuster-wannabes that flood the market with prints, and gives limited-release movies a fighting chance. Rotten Tomatoes measures critical opinion in a binary way. And Metacritic gives a better sense of critics' enthusiasm (or bile) for a movie.
For each of the four measures, the movies are ranked and assigned points (10 for the best performer, one for the worst). Finally, those points are added up, with a maximum score of 40 and a minimum score of four.