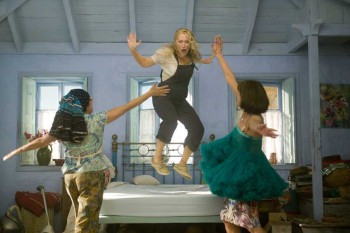 Mamma Mia! isn't a massive hit, but it has staying power. With $136 million in domestic receipts since its release on July 18, it's at ninth place in the summer's box-office race, yet it's been a steady earner. This marks the movie's eighth week in the box-office top 10 (and hence the Box Office Power Rankings), equal to Iron Man and The Dark Knight and one more than WALL•E, Kung Fu Panda, and Indiana Jones and the Kingdom of the Crystal Skull. That's pretty impressive however you cut it, but especially in the absence of a huge opening weekend.
Last week, I predicted — nay, guaranteed — that Tropic Thunder would match The Dark Knight as four-time Box Office Power Rankings champion. I'm an idiot. Batman would have none of it, and reclaimed his crown.
As for new releases, Nicolas Cage borrowed Tom Hanks' The Da Vinci Code hair for Bangkok Dangerous yet couldn't even manage that film's meager accomplishments: His action thriller barely beat Tropic Thunder at the box office and was hammered by the critics who saw it. It shan't last long.
Box Office Power Rankings: September 5-7
Box Office Ranks
Critics' Ranks
Rank
Movie
Last Week
Gross
Per Theater
Rotten Tomatoes
Metacritic
Total
1
The Dark Knight
2
8 ($5.5M)
9 ($2.1K)
10 (94)
10 (82)
37
2
Tropic Thunder
1
9 ($7.2M)
8 ($2.1K)
9 (84)
9 (71)
35
3
Traitor
3
6 ($4.3M)
7 ($2.0K)
6 (53)
7 (60)
26
4
Bangkok Dangerous
-
10 ($7.8M)
10 ($2.9K)
3 (10)
2 (24)
25
5
The House Bunny
4
7 ($5.5M)
6 ($2.0K)
5 (39)
6 (55)
24
6
Pineapple Express
5
1 ($2.3M)
3 ($1.3K)
8 (69)
8 (64)
20
7
Mamma Mia!
8
2 ($2.9M)
5 ($1.5K)
7 (54)
5 (51)
19
8
Death Race
6
4 ($3.7M)
4 ($1.4K)
5 (39)
4 (42)
17
9
Babylon A.D.
6
5 ($4.2M)
2 ($1.2K)
2 (7)
3 (26)
12
10
Disaster Movie
9
3 ($3.0M)
1 ($1.1K)
1 (0)
1 (15)
6
Methodology
Culture Snob's Box Office Power Rankings balance box office and critical reception to create a better measure of a movie's overall performance against its peers than gross receipts alone.
The weekly rankings cover the 10 top-grossing movies in the United States for the previous weekend. We assign equal weight to box office and critical opinion, with each having two components. The measures are: box-office gross, per-theater average, Rotten Tomatoes score, and Metacritic score.
Why those four? Box-office gross basically measures the number of people who saw a movie in a given weekend. Per-theater average corrects for blockbuster-wannabes that flood the market with prints, and gives limited-release movies a fighting chance. Rotten Tomatoes measures critical opinion in a binary way. And Metacritic gives a better sense of critics' enthusiasm (or bile) for a movie.
For each of the four measures, the movies are ranked and assigned points (10 for the best performer, one for the worst). Finally, those points are added up, with a maximum score of 40 and a minimum score of four.