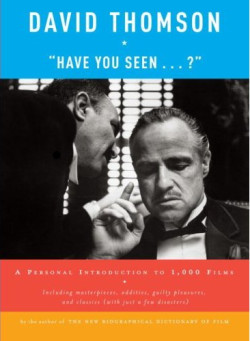 David Thomson's "Have You Seen ... ?" A Personal Introduction to 1,000 Films is the book that I'd been waiting for from the author of the Biographical Dictionary of Film. And I can't imagine that I'm alone among his frustrated fans in being disappointed that his new tome reveals that the faults of his seminal, agitating Dictionary lie with the author and not with the constraints of that book.
My hope with "Have You Seen ... ?" (released in hardcover earlier this month) was that, freed of the strictures of a nominal reference work spanning the careers of directors, writers, actors, and craftspeople, Thomson's prose and insights would shine unfettered. Each of these roughly-500-word essays would dazzle with Thomson's densely ambiguous prose; the laziness and dismissiveness that often marred the Dictionary would fall away.
Yet "Have You Seen ... ?" is even more maddening, because Thomson is no longer at the mercy of duty.