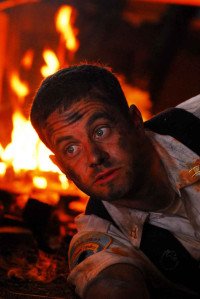 Late afternoon Tuesday, the Christian drama Fireproof had unofficially won this week's Box Office Power Rankings, with a gross of almost $7 million and a per-theater average to make Eagle Eye sweat. By Wednesday morning, however, it was in fourth place.
Call it the Curse of the Small Sample Size. On Tuesday, the movie had one Metacritic review: a 50. On Wednesday, it had three: two 50s and one zero. Hence, its Metacritic average dropped from 50 to 33, and plunged its ranking in that criterion from second to last.
I initially thought that the movie was a victim of snooty critics skipping the "religious" film. But the reality is that the studio didn't screen it for the heathens. So now I don't feel so bad for Kirk Cameron and his cohorts; they got what they deserved.
And in the process, they showed one of the weaknesses of the Box Office Power Rankings: the potential for tyranny by The Onion's AV Club and its accusations of misogyny.
Box Office Power Rankings: September 26-28, 2008
Box Office Ranks
Critics' Ranks
Rank
Movie
Last Week
Gross
Per Theater
Rotten Tomatoes
Metacritic
Total
1
Eagle Eye
-
10 ($29.2)
10 ($8.3K)
4 (27)
7 (43)
31
1
Burn After Reading
1
6 ($6.2M)
5 ($2.3K)
10 (78)
10 (62)
31
3
Lakeview Terrace
2
8 ($7.0M)
6 ($2.8K)
7 (42)
8 (46)
29
4
Fireproof
-
7 ($6.8M)
9 ($8.1K)
9 (63)
1 (33)
26
5
Nights in Rodanthe
-
9 ($13.4M)
8 ($5.0K)
3 (26)
5 (39)
25
6
Tyler Perry's The Family That Preys
4
1 ($3.1M)
3 ($1.9K)
8 (53)
9 (49)
21
6
Igor
6
5 ($5.4M)
4 ($2.3K)
6 (29)
6 (40)
21
8
Miracle at St. Anna
-
2 ($3.5M)
7 ($2.9K)
6 (29)
4 (37)
19
9
My Best Friend's Girl
7
4 ($3.9M)
2 ($1.5K)
1 (11)
2 (34)
9
9
Righteous Kill
8
3 ($3.7M)
1 ($1.2K)
2 (23)
3 (36)
9
Methodology
Culture Snob's Box Office Power Rankings balance box office and critical reception to create a better measure of a movie's overall performance against its peers than gross receipts alone.
The weekly rankings cover the 10 top-grossing movies in the United States for the previous weekend. We assign equal weight to box office and critical opinion, with each having two components. The measures are: box-office gross, per-theater average, Rotten Tomatoes score, and Metacritic score.
Why those four? Box-office gross basically measures the number of people who saw a movie in a given weekend. Per-theater average corrects for blockbuster-wannabes that flood the market with prints, and gives limited-release movies a fighting chance. Rotten Tomatoes measures critical opinion in a binary way. And Metacritic gives a better sense of critics' enthusiasm (or bile) for a movie.
For each of the four measures, the movies are ranked and assigned points (10 for the best performer, one for the worst). Finally, those points are added up, with a maximum score of 40 and a minimum score of four.