Ani DiFranco (an interview)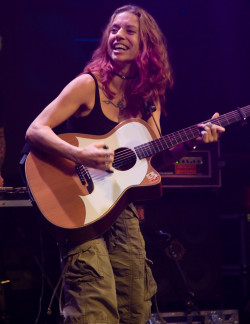 The Ani DiFranco appearing on stages these days might not be the same Ani DiFranco who became something of a legend over the past two decades.
The old Ani averaged a record a year from 1989 through 2006, toured incessantly, and was a punkish-folk, feminist, do-it-yourself, and bisexual icon.
The new Ani has a 20-month-old child and a "baby daddy" (her words, referring to producer Mike Napolitano), and in September released her first studio album in two whole years: Red Letter Year.
Her description of the record is vague, but it's instructive in how populated it is.
"It's big," DiFranco said in an interview in July. "It's big. It's a big record for me. There's lots of people on it making lots of sounds, which is cool for me. I've made my last bunch of records in a small, solitary way, and this one is much more lavish. There's string sections, there's brass bands, my new touring band is in effect, and then a lot of guests. ...
"I spent a bunch of years kind of alone, and working a lot of stuff out. And so the music was coming from that solitary place. And I feel like I've come through the other side. I'm happy again. ...
"I'm keeping great company these days, and I'm feeling happier and more out of my shell, so it just seemed like the most natural way to make a record was to have a party."
DiFranco said the pace of her work has slackened in many ways. She's touring for weeks at a time instead of months, and her daughter has been a welcome distraction: "She's slowed down my writing ... quite significantly. I say that without regret. ... I'm just somebody who's spent 20 years dedicating myself to my work. To shift and put my energy somewhere else for now feels really good, and I think will benefit my work in the end.
"This record is two years in the making as opposed to my usual two minutes, and you can hear it. It's a much better thought-out and constructed and realized record than a lot of them."
DiFranco's life has been full of changes. She said she moved to New Orleans five years ago — she grew up in Buffalo, New York — and bought a house there after Hurricane Katrina. (Her 2006 studio album Reprieve was patched together in Buffalo after DiFranco was forced to leave the Crescent City.)
"New Orleans I find endlessly inspiring, even in its current state of disarray," she said, and she felt an obligation to the city. "Whenever you have a great injury, you have to go there with your energy, with your whatever, with your money, with your love."
That year, DiFranco was also sidelined by tendinitis — which kept her from touring for the better part of a year.
Her pregnancy provided a productive break. DiFranco said she stopped touring during her seventh month and resumed when her daughter was five months old, bringing the baby along. During that hiatus, she put together Canon, a retrospective that distills her intimidating catalog to a still-intimidating 36 tracks. (As usual, Canon was released on her own Righteous Babe imprint, and she was a successful independent artist long before the major-label system began collapsing.)
The collection underscores that DiFranco is an inventive, liquid songwriter and a nimble performer, whose forceful politics and often-aggressive acoustic guitar are balanced by appropriately sensitive arrangements and sharp observations ("I'm a good kisser / And you're a fast learner / And that kinda thing could float us / For a pretty long time"). If Canon is not a coherent summary, that's a function of the voluminous body of work.
"It was a little overdue," she said. "It was just something that I never got around to."
Her pregnancy gave her the opportunity to compile Canon and a book of poetry, Verses. "I promised myself I would do my homework" during her break, she said.
Canon, which was released last year, came at an opportune time, at a juncture when her old way of doing things was falling away. "I am on to a new era," DiFranco said. "It felt right in every sense to pause, look back, ... and move on."
Her rediscovered happiness, she admitted, has made it hard to play certain songs. "A lot of the really sad songs, I'm not feelin' these days — and there's a lot of those," she said. "I have been pawing through my bag of tricks looking for the moments of levity, of lightness, because that's what I'm feeling these days."
But fans shouldn't worry that they won't recognize the new Ani. "The happy Ani is one that was on-stage for many years," she said. "The best music of my career so far was I think when I was younger, and unfettered, and had a serious momentum in my spirit. I think I got a little tired. I got a little sad along the way. I painted myself into a corner, so me jumping out of my corner — I can feel it every night on-stage. Happiness is a much better place to sing from ... ."
(This article originally appeared in the River Cities' Reader.)