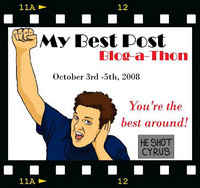 A common regret is watching blog-a-thons come and go with nary a contribution from Culture Snob. So I was overjoyed to see the announcement at He Shot Cyrus for the "My Best Post Blog-a-thon":
"Everyone should participate because here's the best part: You've already written your entry!"
Lucky for me, I've maintained a Best of Culture Snob category that provided me with 22 candidates.
What surprised me was how easy the decision was. I'm proud of each of those pieces, but I can tell you their problems without re-reading them. This one argues with too much strain and enthusiasm. This will make no sense except to a few people. That is far too precious. Yeah, you never did finish it, did you? Too slight. Etc.
The winner? "The Uncertainty of the Everyday", an 885-word essay on Peter Weir's made-for-TV movie The Plumber. It begins: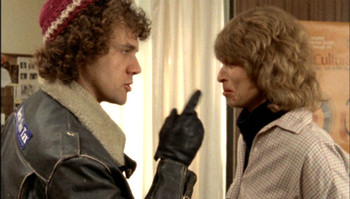 "You're in your apartment. Your husband has gone to work. There's a knock at the door. A genial man says he's the plumber. You explain that you haven't called for a plumber. He replies that he's checking the pipes of all the apartments because of a pressure problem. You let him in; his story seems reasonable, and he's got the right tools. It's an act of trust. He says his name is Max."
What distinguishes this from the others? It's brief and accessible, but I think it's also perceptive and insightful. The movie remains obscure, and it deserves championing, and the piece does justice to its absurdity, its complexity, its psychology, its pleasures, and its mundane horror. The writing gimmick is creative without being oppressive, helping to establish an empathy with both the audience and the protagonist.
Strangely, I labored over this essay a lot less than just about everything else in the Best of Culture Snob archive.
A distant second place: "The Blossom: Jim Kurring."