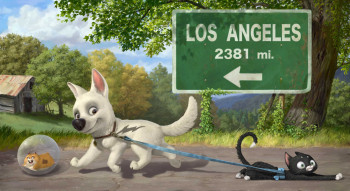 As we all expected, Bolt ran away with this week's Box Office Power Rankings ... .
Hmmm.
Let's step back a second. That Disney's computer-animated dog won isn't an upset, but its five-point margin is surprising. Even after I began plugging in the numbers, I was anticipating something close to a three-way tie between Bolt, Twilight, and Quantum of Solace. What I didn't process was the effect of the bunching of critical scores — and the bunching of critical scores higher than we've seen for a few months.
Twilight's Rotten Tomatoes score of 44 isn't bad; in October, it would have been good enough to be middle of the pack. But last weekend, it was the only movie with a score south of 57. It's nearly impossible to win the Box Office Power Rankings with just one point in any category, and the teen vampire flick ended up in fourth place, despite a nearly $70-million opening weekend.
Seven movies this past weekend had Rotten Tomatoes scores between 57 and 67. The Metacritic scores were even more concentrated, with seven movies crowded between 55 and 59. It can get messy in there.
The key to Bolt's easy win was less its dominance than its ability to stay out of the logjam.
Continue reading for the methodology and the week's full rankings.