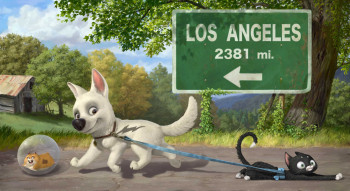 As we all expected, Bolt ran away with this week's Box Office Power Rankings ... .
Hmmm.
Let's step back a second. That Disney's computer-animated dog won isn't an upset, but its five-point margin is surprising. Even after I began plugging in the numbers, I was anticipating something close to a three-way tie between Bolt, Twilight, and Quantum of Solace. What I didn't process was the effect of the bunching of critical scores — and the bunching of critical scores higher than we've seen for a few months.
Twilight's Rotten Tomatoes score of 44 isn't bad; in October, it would have been good enough to be middle of the pack. But last weekend, it was the only movie with a score south of 57. It's nearly impossible to win the Box Office Power Rankings with just one point in any category, and the teen vampire flick ended up in fourth place, despite a nearly $70-million opening weekend.
Seven movies this past weekend had Rotten Tomatoes scores between 57 and 67. The Metacritic scores were even more concentrated, with seven movies crowded between 55 and 59. It can get messy in there.
The key to Bolt's easy win was less its dominance than its ability to stay out of the logjam.
Box Office Power Rankings: November 21-23, 2008
Box Office Ranks
Critics' Ranks
Rank
Movie
Last Week
Gross
Per Theater
Rotten Tomatoes
Metacritic
Total
1
Bolt
-
8 ($26.2M)
8 ($7.2K)
10 (84)
10 (68)
36
2
Quantum Of Solace
1
9 ($26.7M)
9 ($7.7M)
7 (65)
6 (58)
31
3
Role Models
2
6 ($7.3M)
5 ($2.7M)
9 (76)
7 (59)
27
4
Twilight
-
10 ($69.6M)
10 ($20.4M)
1 (44)
5 (57)
26
5
Madagascar: Escape 2 Africa
3
7 ($15.7M)
6 ($3.9M)
4 (60)
8 (61)
25
6
Changeling
5
5 ($2.7M)
4 ($1.6M)
2 (57)
9 (63)
20
7
High School Musical 3: Senior Year
4
4 ($2.0M)
1 ($0.9M)
8 (67)
5 (57)
18
8
The Boy in Striped Pajamas
-
3 ($1.6M)
7 ($4.1K)
6 (64)
1 (55)
17
9
Zack and Miri Make a Porno
6
2 ($1.6M)
3 ($1.3K)
6 (64)
2 (56)
13
10
The Secret Life of Bees
7
1 ($1.3M)
2 ($1.2K)
3 (58)
5 (57)
11
Methodology
Culture Snob's Box Office Power Rankings balance box office and critical reception to create a better measure of a movie's overall performance against its peers than gross receipts alone.
The weekly rankings cover the 10 top-grossing movies in the United States for the previous weekend. We assign equal weight to box office and critical opinion, with each having two components. The measures are: box-office gross, per-theater average, Rotten Tomatoes score, and Metacritic score.
Why those four? Box-office gross basically measures the number of people who saw a movie in a given weekend. Per-theater average corrects for blockbuster-wannabes that flood the market with prints, and gives limited-release movies a fighting chance. Rotten Tomatoes measures critical opinion in a binary way. And Metacritic gives a better sense of critics' enthusiasm (or bile) for a movie.
For each of the four measures, the movies are ranked and assigned points (10 for the best performer, one for the worst). Finally, those points are added up, with a maximum score of 40 and a minimum score of four.