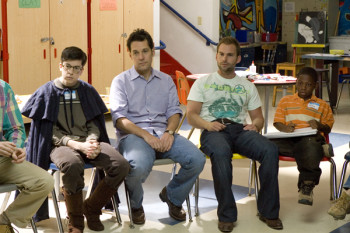 It was odd to read these two things within a few minutes of each other:
"[T]he kind of movie you don't see every day, a comedy that is funny. The kind of comedy where funny people say funny things in funny situations, not the kind of comedy that whacks you with manic shocks to force an audible Pavlovian response."
"[O]ne of the rare 'feel-good' movies that actually makes you feel good, as opposed to merely jerked around.
The latter movie opened in a handful of theaters on November 12, so it doesn't show up in this week's Box Office Power Rankings, but Role Models does, and debuts at the top along with the Madagascar sequel.
The curious thing about the Seann William Scott/Paul Rudd comedy is a pair of nearly constant refrains in the reviews: It's formulaic, and it's funny.
We shouldn't be surprised that a Hollywood movie stays on a well-trod path, of course, but are we now in an age when genre tags are so meaningless? When it's a pleasant shock when a comedy is funny or a thriller makes our pulses pound? Nearly all action movies have action, yes, but it's one of the rare labels that describes the content rather than the (ostensibly) intended effect.
I don't want to make too much of this, but both of these reviews contrast the strengths of these movies with what we have been conditioned to anticipate from them: "manic shocks" and being "jerked around," respectively. The benefit of these diminished expectations is that it doesn't take much to please people.
Box Office Power Rankings: November 7-9, 2008
Box Office Ranks
Critics' Ranks
Rank
Movie
Last Week
Gross
Per Theater
Rotten Tomatoes
Metacritic
Total
1
Role Models
-
9 ($19.2M)
9 ($6.9K)
10 (74)
8 (59)
36
1
Madagascar: Escape 2 Africa
-
10 ($63.1M)
10 ($15.6K)
7 (59)
9 (61)
36
3
High School Musical 3: Senior Year
1
8 ($9.2M)
7 ($2.6K)
9 (67)
7 (57)
31
4
Changeling
2
7 ($7.3M)
8 ($3.9M)
5 (56)
10 (62)
30
5
Zack and Miri Make a Porno
3
6 ($6.3M)
5 ($2.3K)
8 (66)
5 (55)
24
6
The Secret Life of Bees
4
2 ($3.1M)
4 ($2.1K)
6 (58)
7 (57)
19
6
Soul Men
-
5 ($5.4M)
6 ($2.6K)
4 (41)
4 (49)
19
8
Eagle Eye
7
1 ($2.5M)
3 ($1.8K)
3 (28)
3 (43)
10
9
Saw V
5
4 ($4.1M)
2 ($1.4K)
2 (12)
1 (19)
9
10
The Haunting of Molly Hartley
7
3 ($3.3M)
1 ($1.3K)
1 (3)
2 (28)
7
Methodology
Culture Snob's Box Office Power Rankings balance box office and critical reception to create a better measure of a movie's overall performance against its peers than gross receipts alone.
The weekly rankings cover the 10 top-grossing movies in the United States for the previous weekend. We assign equal weight to box office and critical opinion, with each having two components. The measures are: box-office gross, per-theater average, Rotten Tomatoes score, and Metacritic score.
Why those four? Box-office gross basically measures the number of people who saw a movie in a given weekend. Per-theater average corrects for blockbuster-wannabes that flood the market with prints, and gives limited-release movies a fighting chance. Rotten Tomatoes measures critical opinion in a binary way. And Metacritic gives a better sense of critics' enthusiasm (or bile) for a movie.
For each of the four measures, the movies are ranked and assigned points (10 for the best performer, one for the worst). Finally, those points are added up, with a maximum score of 40 and a minimum score of four.