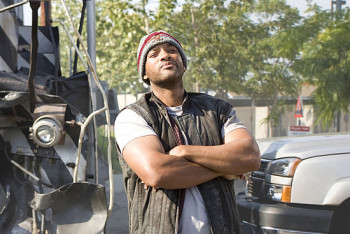 Let's break this down like a logic puzzle.
Iron Man is a better beginning-to-end movie than The Dark Knight or Hancock.
The Dark Knight's best scenes and moments are easily superior to anything in the other two movies.
The Dark Knight's epic collapse (pretty much everything after Harvey Dent is burned) reflects that (a) it had much farther to fall; (b) it had outsize ambition, even if it didn't fulfill all of it; and (c) expectations for it — after Batman Begins, after its bravura early scenes, and with a Joker in conception and performance that remains endlessly fascinating — would be nearly impossible to meet.
Hancock's special effects were terrible, Iron Man's were impressive, and The Dark Knight's were seamless and organic.
I did not see The Incredible Hulk.
I never want to see Hancock or Iron Man again, while The Dark Knight I expect to watch regularly, despite my disappointment with it.
So which did I like best, and find the most affecting?
Hancock, of course.
I'm still trying to figure it out.