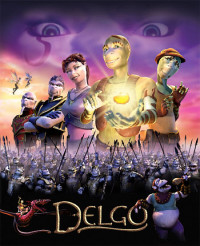 If you've heard of the animated Delgo, it's most likely for its infamy. Opening this past weekend in 2,160 theaters, it barely grossed $500,000. Its per-theater revenue was $237, meaning that with an average ticket price of $7 and five screenings per day, a little more than two people showed up each time the movie was exhibited.
Needless to say, Delgo does not show up in this week's Box Office Power Rankings, won once again by Bolt, which is feasting on weak competition such as The Day the Earth Stood Still, a bomb that looks like The Dark Knight compared to Delgo.
Box Office Mojo notes that Delgo had the worst wide opening since at least 1982. The chart indicates that if you open in 2,000 or or more theaters, $2 million in ticket sales are pretty much guaranteed. (See: The Adventures of Pluto Nash [$2.2 million] and this summer's The Rocker [2.6 million].)
So something went horribly wrong with Delgo.
At the movie's Internet Movie Database trivia page, one learns that the independent production spanned six years and that the dailies were shown on the movie's official Web site:
"Fathom Studios made a highly progressive move by opening themselves up to scrutiny from the outside. They posted their progress online over a number of years, and not in the form of sanitized press releases or occasional images. They were actually using their site to post dailies, rough footage, fragments of animation as they were being scrutinized, polished, and reworked. This was a first for any active studio production."
Another nugget:
"Fathom Studios signed only recognizable, bankable actors for principle [sic] parts as part for [sic] their production master plan. They then rolled out their cast announcements gradually, thus maximizing the PR impact and addressing potential distribution concerns of the companies they needed to get the film into theaters."
Here we note the distinction between getting a movie into theaters and getting paying customers into those theaters.
And:
"The movie was scripted as the first film of a potential trilogy."
There are at least two people excited about the possibility: Freddie Prinze Jr. and Chris Kattan.
Box Office Power Rankings: December 12-14, 2008
Box Office Ranks
Critics' Ranks
Rank
Movie
Last Week
Gross
Per Theater
Rotten Tomatoes
Metacritic
Total
1
Bolt
1
7 ($7.5M)
7 ($2.4K)
9 (85)
9 (68)
32
2
Milk
-
2 ($2.6M)
9 ($7.9K)
10 (93)
10 (84)
31
3
Twilight
3
8 ($8.0M)
6 ($2.2K)
4 (45)
6 (56)
24
4
Quantum Of Solace
4
5 ($3.7M)
3 ($1.4K)
8 (65)
7 (58)
23
5
The Day the Earth Stood Still
-
10 ($30.5M)
10 ($8.6K)
1 (20)
1 (39)
22
6
Four Christmases
5
9 ($13.1M)
8 ($3.7K)
2 (24)
2 (41)
21
6
Australia
6
6 ($4.2M)
4 ($1.5K)
6 (53)
5 (53)
21
8
Madagascar: Escape 2 Africa
7
3 ($3.2M)
2 ($1.1K)
7 (63)
8 (61)
20
9
Nothing Like the Holidays
-
4 ($3.5M)
5 ($2.1K)
5 (47)
4 (51)
18
10
Transporter 3
9
1 ($2.4M)
1 ($0.9K)
3 (36)
4 (51)
9
Methodology
Culture Snob's Box Office Power Rankings balance box office and critical reception to create a better measure of a movie's overall performance against its peers than gross receipts alone.
The weekly rankings cover the 10 top-grossing movies in the United States for the previous weekend. We assign equal weight to box office and critical opinion, with each having two components. The measures are: box-office gross, per-theater average, Rotten Tomatoes score, and Metacritic score.
Why those four? Box-office gross basically measures the number of people who saw a movie in a given weekend. Per-theater average corrects for blockbuster-wannabes that flood the market with prints, and gives limited-release movies a fighting chance. Rotten Tomatoes measures critical opinion in a binary way. And Metacritic gives a better sense of critics' enthusiasm (or bile) for a movie.
For each of the four measures, the movies are ranked and assigned points (10 for the best performer, one for the worst). Finally, those points are added up, with a maximum score of 40 and a minimum score of four.