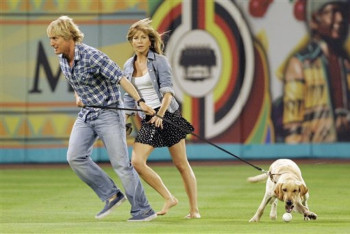 In last week's Box Office Power Rankings, The Curious Case of Benjamin Button finished two points ahead of Marley and Me. They were third and first, respectively, in overall box office, and one point apart in the per-theater standings.
This past weekend, they were again third and first in box office, and again one point apart in per-theater average. Nothing opened wide. So how did Marley and Me catch Button to create a tie for this week's crown?
The distance between them was only two points, so it didn't take much — just a few critics, in fact.
The first point came when Marley's Rotten Tomaotes score rose between the compilation of last week's rankings and this week's; the jump from 55 to 57 tied it with Valkyrie and earned it another Box Office Power Rankings point.
The second point came when Curious Case's Metacritic score fell from 70 to 69. That dropped it out of a tie with Doubt and cost it a point in our rankings.
So despite what you might have read, every critic does matter.
(Note: Because of a typo, last week's rankings incorrectly shorted Doubt's Rotten Tomatoes score. Doubt finished fourth, not eighth as listed; the order [if not the rank] of all other movies remains the same. The chart has not been corrected.)
Box Office Power Rankings: January 2-4, 2009
Box Office Ranks
Critics' Ranks
Rank
Movie
Last Week
Gross
Per Theater
Rotten Tomatoes
Metacritic
Total
1
Marley and Me
2
10 ($24.3M)
9 ($6.9K)
7 (57)
6 (53)
32
1
The Curious Case of Benjamin Button
1
8 ($18.7M)
8 ($6.3K)
8 (72)
8 (69)
32
3
Slumdog Millionaire
-
1 ($4.7M)
10 ($7.7K)
10 (94)
10 (86)
31
4
Valkyrie
3
7 ($14.1M)
6 ($5.1K)
7 (57)
7 (56)
27
5
Doubt
8
2 ($5.0M)
4 ($3.9K)
9 (75)
9 (70)
24
6
Bedtime Stories
5
9 ($20.5M)
7 ($5.6K)
2 (24)
1 (34)
19
6
Yes Man
4
6 ($13.9M)
5 ($4.1K)
4 (43)
4 (46)
19
8
The Tale of Despereaux
6
4 ($13.9M)
2 ($2.2K)
5 (54)
6 (53)
17
9
Seven Pounds
7
5 ($10.1M)
3 ($3.7K)
3 (28)
2 (36)
13
10
The Day the Earth Stood Still
9
3 ($5.0M)
1 ($2.2K)
1 (19)
3 (39)
8
Methodology
Culture Snob's Box Office Power Rankings balance box office and critical reception to create a better measure of a movie's overall performance against its peers than gross receipts alone.
The weekly rankings cover the 10 top-grossing movies in the United States for the previous weekend. We assign equal weight to box office and critical opinion, with each having two components. The measures are: box-office gross, per-theater average, Rotten Tomatoes score, and Metacritic score.
Why those four? Box-office gross basically measures the number of people who saw a movie in a given weekend. Per-theater average corrects for blockbuster-wannabes that flood the market with prints, and gives limited-release movies a fighting chance. Rotten Tomatoes measures critical opinion in a binary way. And Metacritic gives a better sense of critics' enthusiasm (or bile) for a movie.
For each of the four measures, the movies are ranked and assigned points (10 for the best performer, one for the worst). Finally, those points are added up, with a maximum score of 40 and a minimum score of four.