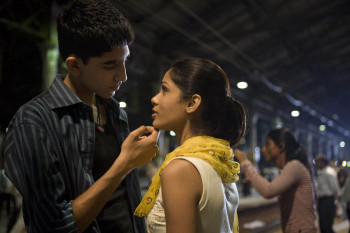 Slumdog Millionaire has slipped in and out of the Box Office Power Rankings since the weekend starting December 19 — spending four of those weeks in the rankings and two weeks out.
It seems telling that this past weekend, Millionaire again came out on top of our rankings, five weeks after it initially won. In both cases, Slumdog's victory accompanied a significant increase in the number of venues at which the movie was playing — 169 to 589 on December 19, and 582 to 1,411 on January 23.
But there's also evidence that the Danny Boyle-directed movie has been able to maintain public interest and enthusiasm over an extended period of time, beyond simply expanding its release. In each of its four appearances in our rankings, it has been in the top three for per-theater average.
That six-weekend performance is pretty amazing when you consider the cultural half-life of most movies now can be measured in days; Slumdog Millionaire has a staying power that rivals The Dark Knight.
Consider it one more reason the movie is approaching being a shoo-in for the Best Picture Oscar.
Box Office Power Rankings: January 23-25, 2009
Box Office Ranks
Critics' Ranks
Rank
Movie
Last Week
Gross
Per Theater
Rotten Tomatoes
Metacritic
Total
1
Slumdog Millionaire
3
6 ($10.7M)
10 ($7.6K)
10 (94)
10 (86)
36
2
Gran Torino
1
8 ($16.2M)
7 ($5.3K)
9 (76)
9 (72)
33
3
My Bloody Valentine 3D
4
5 ($10.0M)
6 ($4.0K)
7 (59)
6 (51)
24
3
Underworld: Rise of the Lycans
-
9 ($20.8M)
9 ($7.1K)
3 (35)
3 (45)
24
5
Hotel for Dogs
7
7 ($12.9M)
5 ($3.9K)
5 (44)
6 (51)
23
6
Paul Blart: Mall Cop
5
10 ($21.6M)
8 ($6.9K)
2 (27)
2 (39)
22
7
The Curious Case of Benjamin Button
-
2 ($6.1M)
2 ($2.7K)
8 (71)
8 (70)
20
8
Notorious
2
1 ($5.8M)
4 ($3.5K)
6 (53)
7 (60)
18
9
Inkheart
-
4 ($7.6M)
3 ($2.9K)
4 (37)
4 (47)
15
10
Bride Wars
10
3 ($6.9M)
1 ($2.6K)
1 (12)
1 (24)
6
Methodology
Culture Snob's Box Office Power Rankings balance box office and critical reception to create a better measure of a movie's overall performance against its peers than gross receipts alone.
The weekly rankings cover the 10 top-grossing movies in the United States for the previous weekend. We assign equal weight to box office and critical opinion, with each having two components. The measures are: box-office gross, per-theater average, Rotten Tomatoes score, and Metacritic score.
Why those four? Box-office gross basically measures the number of people who saw a movie in a given weekend. Per-theater average corrects for blockbuster-wannabes that flood the market with prints, and gives limited-release movies a fighting chance. Rotten Tomatoes measures critical opinion in a binary way. And Metacritic gives a better sense of critics' enthusiasm (or bile) for a movie.
For each of the four measures, the movies are ranked and assigned points (10 for the best performer, one for the worst). Finally, those points are added up, with a maximum score of 40 and a minimum score of four.