Vic Chesnutt (an interview)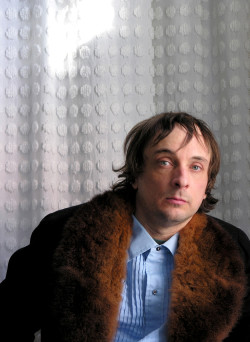 On the 1996 benefit album Sweet Relief II: The Gravity of the Situation, the songs of Vic Chesnutt were covered by everybody from Madonna to R.E.M. to the Smashing Pumpkins to the Indigo Girls. Early in his career, the singer/songwriter was championed by Michael Stipe, who produced Chesnutt's first two records, released in 1990 and 1991. PBS aired a documentary titled Speed Racer about his life. He had a small part in Sling Blade.
He has collaborated with a diverse slate of artists from Widespread Panic to jazz guitarist Bill Frisell to the Cowboy Junkies to members of Fugazi and Godspeed You! Black Emperor. Chesnutt's latest partnership is with the psychedelic-pop group Elf Power, part of the Georgia collective that spawned The Apples in Stereo and Neutral Milk Hotel. Chesnutt and Elf Power will be among the performers at a March 18 R.E.M. tribute concert at Carnegie Hall, at which they'll perform "Everybody Hurts."
I start with the résumé because even if you've heard Chesnutt's name, he's not exactly famous. He has an immense reputation but a relatively small audience.
Rolling Stone's album guide called him one of the "most prolific and enigmatic songwriters of his generation, writing in a simple style that nonetheless communicates immediate sensitivity and pain. His best songs capture, in the same breath, hope and disappointment, escape and self-destruction, love and pity — stories without a plot so much as a 'subrealist' attention to detail."
He has a surfeit of credibility, yet it's telling that he and Elf Power recently performed a Super Bowl Sunday show at a pizza parlor (in the city where I live) for a ticket price of $10. Given who he is, that's ridiculously cheap.
A paraplegic since an auto accident when he was 18, Chesnutt said in a January phone interview that his penchant for collaboration has two sources, the first being need.
"The whole reason I moved away from ... just me and a guitar in the first place is because my fingers quit working as good, and I couldn't strum guitar as much," he said. "So I needed a band to help flesh out my songs, because I just couldn't play them anymore by myself as good. I've slowly been re-learning how to play. And I'm just starting to get there."
The other reason is obvious, he said: "My whole career has been a kind of quest to play with great musicians. My spirit soars ... . It propels me through years ... ."
Elf Power backed Chesnutt for a live-music television program several years ago, and it went well enough that they decided to make a record together.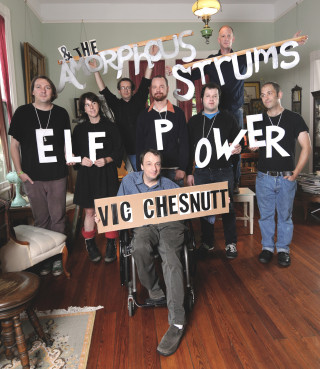 The result, Dark Developments, was recorded in Chesnutt's attic, came together over the course of a year, and was released in October. He had some songs in mind from his extensive catalog of unrecorded songs — including "Bilocating Dog" and "Phil the Fiddler." Both of those are relatively straightforward pop.
"Once we started exploring a couple of those songs, I started stretching out and thinking about trying to explore some other feels," Chesnutt said. "Kind of, almost, dare I say kind of soul-ly. Nearly. Kind of. Soul feels on a couple of the songs."
The last song they recorded was "The Mad Passion of the Stoic," which crawls along, with ghostly backing vocals on either side of Chesnutt's singing.
"We were so familiar with each as a band by then, I just had this sneaking suspicion that this kind of ... riff and groove ... that kind of super-stripped-down thing, we could do also," Chesnutt said. "I could see their many aspects by then. ...
"We had the luxury of time, and through that luxury of time came the luxury of familiarity. So we got to know each other a lot better."
Not everything went smoothly. The song that became "Teddy Bear," with its reggae feel, was a struggle.
"It was strangely hard to arrange," Chesnutt said. "By the end we were wanting to kill ourselves because of how simple the song was, and yet, we just couldn't get it going. The next day I was listening to it, and wow, it was incredible. But the lyrics were just stupid. I don't know what I was thinking. I scrapped all those lyrics, I put some new lyrics on it, and now it's all of our favorite song."
Elf Power leader Andrew Rieger said Chesnutt also added aggressive keyboard solos: "It was kind of not fair because Vic was able to spend hours tinkering around and coming up with overdubs, but we weren't given that chance."
Elf Power's normal process is to spend a lot of time on overdubs, but Chesnutt forced the band to work differently.
"We would run through it a couple times, then record it live, and move on, so it was a real spontaneous way of working, which is something different for us ... ," Rieger said in a phone interview in January. "There were several occasions where we would ask Vic if we could get versions of the songs to take home and listen to, so we could come up with overdub ideas. And Vic wouldn't let us do it. It was a little maddening at first."
Rieger said the band added some "weird textures and flavors," but added that "we were fairly restrained in what we came up with."
Dark Developments is certainly a more joyous record than his previous one, the bleak but invigoratingly atmospheric North Star Deserter, although that's not to say it's happy. The music's buoyancy lifts some of the lyrics, making the self-pitying bitterness of the autobiographical "Little Fucker," for example, more playful than poisonous.
Chesnutt appears to have a complicated relationship with his own life. His online biography is clipped and matter-of-fact, dispensing with key events in a few words, from the deaths of his parents to four comas to meeting Johnny Cash to "Allen Ginsberg calls Vic an idiot."
"Life is a series of occurrences, and they can be indexed," he said. "That's definitely one way to look at a life, or inventory a life. For me to have to think about my life for presentation for the public, it's terrifying, and it makes me depressed. When I started just kind of listing it out, it gave me some joy."
He said he calls that style "stacking. This is like a stack of occurrences that led me to the precarious perch where I am today."
I asked Chesnutt to verify when he quit drinking — his comas and accident were drug- and alcohol-related — and the response was an unconvincing "don't know."
But he was willing to talk about whether his songs have changed since he stopped.
"I did write a bunch of songs when I was drunk," he said. "There's no doubt about it. The songs haven't changed, just maybe sometimes the process of it has changed. ...
"Sometimes I'd wake up from a blackout drunk and there'd be a whole page of words that I don't even remember writing. And there'd be a song there. And it'd be a brilliant song for me. That doesn't happen anymore."
But he still writes his ideas and lines in a notebook: "I can waste all day in a corner."
Even though he's supporting Dark Developments now, he has several other projects he's been working on.
Chesnutt recorded in San Francisco with Johnathan Richman and drummer Tommy Larkin, and he's put down tracks for another album with the crew that backed him on North Star Deserter that's due in September. "And now I just started making another album, Kraftwerk-inspired instrumentals," he said. "It doesn't sound like Kraftwerk. It sounds kind of Krappywerk, it should be said."
He added that he just did an instrumental soundtrack for a German movie, and that prompted him to explore that facet of his music. "The rhythm of the melody is not propelled through the meter of the words, and so I get to break it down into this more simple, more mathematical melodies," he said. "Melodic minimalism is exciting for me. And I can also explore melancholy moods, or the fine line between melancholy and childlike innocence and happiness. ... Mathematical, but sloppy math."
Both the Richman record and the instrumentals bring Chesnutt full circle, to the simplicity of his first two records.
He said that he's begun to recognize that the spare solo style of those albums has its own appeal, and he's working to combine that with his penchant for collaboration. "I've just recently been discovering how beautiful the minimalism of what I do is," he said. "You can explore both in the same thing."
(This article originally appeared in the River Cities' Reader.)