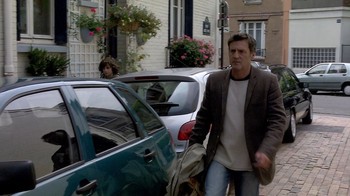 In his "Great Movies" article on Caché, Roger Ebert teases that he found a key to understanding this ever-mysterious movie:
"How is it possible to watch a thriller intently two times and completely miss a smoking gun that's in full view? Yet I did. Only on my third trip through Michael Haneke's Caché did I consciously observe a shot which forced me to redefine the film."
Great! In my single viewing, I was frustrated by the film; I enjoyed its coy, cryptic nature but still don't get its critical reputation.
Ebert provides the following hint:
"Now I call your attention to the shot I missed the first time through. You will find it on the DVD, centering around 20:39. You tell me what it means. It's the smoking gun, but did it shoot anybody?"
The trouble is that with different DVD versions in different countries, and with different DVD players, the 20:39 mark might fall on a different shot. I'm guessing that the "smoking gun" in question comes before the dinner party, but beyond that ... .
Does he mean this shot, which mimics the tantalizing closing? (Click on the images below for larger versions.)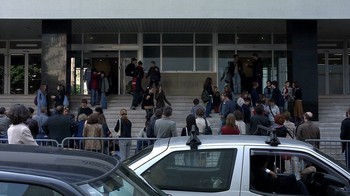 Or this one, which might only divide days but also shows a blue car in the background?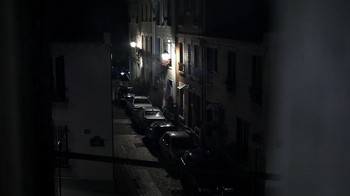 Or this one, which provides context for the crude drawing on the postcard?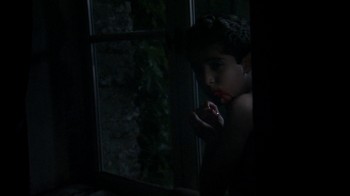 Or this?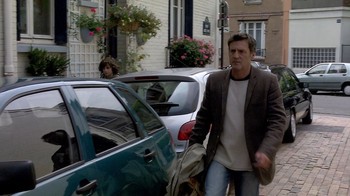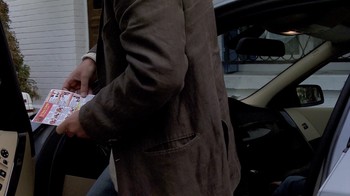 There is some discussion on this topic, but none of it is illuminating. Until Ebert himself is less vague, I suspect we'll all be scratching our heads, and returning to the movie to watch that section ad nauseam.
But perhaps the critic is playing a game here. Caché was released in 2005, and the "Great Movies" series is an opportunity for Ebert to write carefully and at length about an older film without worrying about spoiling its surprises; if you haven't seen it yet, that's your own damn fault.
So why is he so evasive? Why doesn't he describe the specific shot, or at least the one that immediately precedes it, to preclude confusion? Why, with a movie that is hell-bent on (as Ebert says) "confounding our expectations," won't he talk about what he sees, and what he thinks it means? A movie as open as Caché won't be diminished for anybody by one man offering his interpretation.
Perhaps, though, Ebert means to obfuscate. Maybe he wants to see what people come up with, or how many guess correctly. I'm even open to the possibility that there is no "smoking gun" at or near 20 minutes, 39 seconds.
It could just be a trick to get you to watch the movie (again or for the first time), and to watch it closely — and that would make his essay a perfect companion to the movie.