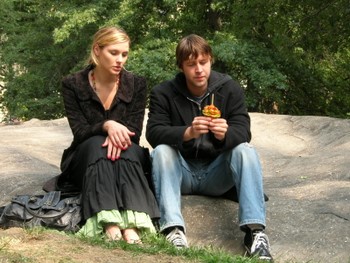 Writer/director David Spaltro's debut feature ...Around concerns a film-school student who lives out of train stations in New York City, and the movie has such a distinctive, Pollyanna view of homelessness that it's either completely divorced from reality or born of some charmed experience.
In an interview last month, Spaltro called ...Around "a very personal story to me. I never use the term 'biography' or 'autobiography,' because I think even if you're being extremely honest, when you start writing or creating anything, it's always fiction in some way, because you can only tell your perspective or your memories."
That's a roundabout way of saying that Spaltro lived out of a train station while going to film school. He put his tuition on credit cards, aiming to pay the minimum each month, but "then I realized I'd have no money for living." He read an article about a student calling a public library home, and ... there you go.