Author Daniel Woodrell (an interview)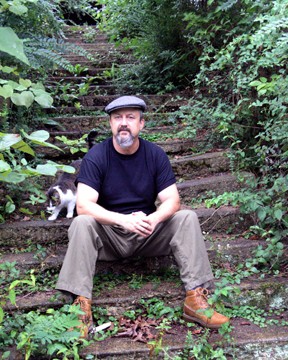 One thing you might notice picking up Daniel Woodrell's novel Winter's Bone is how thin it is — less than 200 pages.
And when you start reading, you might be struck that it's been carved incredibly lean. While relatively plainspoken, the sentences are dense, with a mix of dialect from the Ozarks and artfully turned idioms that feel instantly right. One has to sip Woodrell's language.
"I do like to make it apparent to the reader that you need to probably read everything," Woodrell said in a phone interview in April. "'I won't put in any flab, but you have to read what's here' is kind of my deal with the reader. ... Pay attention to the sentences."
Dennis Lehane — the author of the novels Gone, Baby, Gone, Mystic River, and Shutter Island, among others — has called Woodrell "the least-known major writer in the country right now." Woodrell's widest exposure was through the Ang Lee film Ride with the Devil, which was based on his 1987 Civil War-set novel Woe to Live on.
Winter's Bone has also been adapted for film — opening in four theaters last week — and it won the grand-jury prize for drama and the Waldo Salt Screenwriting Award at this year's Sundance film festival.
In both cases, Woodrell said, he's been fortunate that the filmmakers have been sensitive to his books, and haven't turned them into backwoods caricatures or clichés. "We get a good idea of who we're dealing with before we make these deals," he said of selling the rights to his books. "I'm very lucky. Very well-treated. The book is definitely present in both of them, and well-presented."
Simple Stories Full of Texture
Winter's Bone — Woodrell's eighth book, published in 2006 — begins: "Ree Dolly stood at break of day on her cold front steps and smelled coming flurries and saw meat."
"I like an opening that's dramatic but that also is suggestive of a lot of wrinkles to come — things you might not predict," Woodrell said. (It's hard to top the first sentence of his short story "Night Stand," which Esquire published last year: "Pelham came away one night to find a naked man standing over his bed, growling.")
Ree is a 16-year-old who has to take care of her two younger brothers. Her mother is mentally ill: "Mom's morning pills turned her into a cat, a breathing thing that sat near heat and occasionally made a sound."
Jessup, Ree's meth-cooking father, has disappeared:
"Walnuts were still falling when Ree saw him last. Walnuts were thumping to ground in the night like stalking footsteps of some large thing that never quite came into view, and Jessup had paced on this porch in a worried slouch, dented nose snuffling, lantern jaw smoked by beard, eyes uncertain and alarmed by each walnut thump."
The novel is propelled by a simple situation: If Jessup doesn't show up for his impending court date, Ree and her family will lose their home, because he put up the family property as bond. Ree has to find him.
The origin of Ree, Woodrell said, was seeing a teenage mother of two children in a grocery store, and wondering what it would be like to be saddled with all that responsibility at such a young age.
"I really just follow character," he said. "When I really feel that I'm connecting with a character — it sounds a little mystical maybe — it's almost like a musical tone or pitch or something. I feel pretty confident once I feel like everything I'm coming up with about the character is honest to the character."
But the hook — the family's property being at stake — didn't present itself initially. "I'd been writing on this for a little while when that entered into my mind," the author said. "That's what really made everything between all the characters gel for me as a storyteller. ...
"I didn't ever consider the other version to be quite right. I knew there was something missing. It was easy for me to chuck what needed to be chucked."
The book's premise is established efficiently in 12 pages, and it's evident that Woodrell is unsentimental about hacking away things unnecessary to the characters and the story. "I don't consider myself much of a plot guy," he said. "I really like pretty simple stories with a lot of texture."
Evocative shading is everywhere in Winter's Bone. Ree's Uncle Teardrop — a "crank chef" himself, without "enough ear nub remaining to hang sunglasses on" because of a lab explosion — tries to deter her from looking for her father in one early encounter that drips with menace but is driven by protectiveness:
"Teardrop lurched from his chair and snatched Ree by the hair and pulled her head hard his way and yanked back so her throat was bared and her face pointed up. He ran his eyes into her like a serpent down a hole, made her feel his slither in her heart and guts, made her tremble. He jerked her head one way and another, then pressed a hand around her windpipe and held her still. He leaned his face to hers from above and nuzzled his melt against her cheek, nuzzled up and down, then slid his lips to her forehead, kissed her once and let go."
The novel is filled with country language and syntax from the mouths of characters, but even the unspoken prose is infused with the Ozarks — where Woodrell was born and where he lives. "I try to have the omniscient narration sound like it also is familiar with this world," he said.
Demystifying Writers
Woodrell knew at an early age that he wanted to be a writer, and he also escaped from Missouri as soon as he could, joining the Marines and serving in 1970 and 1971.
"I went in the week I turned 17," he said. "I was a bored kid losing focus on school. It's a fairly common thing historically in my family to run away to the military as soon as you can. ... I think I was just looking for some adventure." (His adventure included Guam but not Vietnam.)
Ree aspires to join the Army, and both the protagonist and the intruder of the story "Night Stand" are veterans. Woodrell's next book — which he said he expects to finish this year — will draw heavily from his experience in the Marines, although it's not about war. "Those years were pretty important to me, and they echo a lot," he said. "And I see elements of those days in our present days."
Woodrell said that when he joined the Marines, he still wanted to be a writer, although he didn't see a path in front of him. "I didn't know any writers to speak to until I was in the second half of my 20s," he said. "It didn't really seem plausible, but still the dream was alive. And ... I did think that the Marines would be a good place to get an accelerated experience. ... I thought I'd just learn a lot about life in a hurry."
In his late 20s, he was working toward a master's degree in English when a faculty member pushed him to pursue his interest in writing fiction, suggesting the famed Writers' Workshop at the University of Iowa. It was the only program to which he applied, and he was accepted.
The obvious value of the program was being forced to write a lot, but Woodrell said another was reading the work of authors he wouldn't have otherwise encountered until later in life, if at all.
And it gave him access to a faculty that included Barry Hannah, Paule Marshall, James Alan McPherson, Bharati Mukherjee, and Lynne Sharon Schwartz. "It demystified writers to me a lot," Woodrell said. "Because I hadn't been around many, I had perhaps a bit of a hero-worship thing going. It made these figures just human to you, and you then began to then have more confidence that perhaps you could do a lot of what they had done."
Woodrell said he never intended to write about the Ozarks — he moved to California aiming to write a "sophisticated novel" — but his last four books have been set in the country of his birth.
He said that series — which began with 1996's Give Us a Kiss: A Country Noir, published the year after Woodrell moved back to Missouri — has come to an end. "I ... felt like Winter's Bone kind of emptied the bucket," he said. "I just didn't see anything I could do that would improve upon what it had to say."
Although Winter's Bone is certainly dark, Woodrell is uncomfortable with the "country noir" label that he stuck on himself with Give Us a Kiss. "I used it kind of half-facetiously ... ," he said. "It's one of those 'Don't make that joke; it might stick' [things]. ...
"I don't consider myself one [a genre writer], but I get tired of arguing about it. 'Who else is in it [the genre] with me?' is what I always ask."
The genre tag fosters laziness in readers, writers, and critics, he said. "People think they know what you would have to say without looking to see what you've said," he said. "If I were a part of a genre, it would be a relief, because then you'd know what you're supposed to do with every book."
And Winter's Bone, he said, doesn't obey the rules of noir, particularly in the ending. Woodrell said he toyed with a downbeat closing, but he finally decided that Ree deserved better. "I really felt Ree Dolly was a character who had shown so many good personal characteristics, as well as drive and stamina and everything else, that it would be a false imposition to put some horribly dark finish on it," he said. "It didn't feel real to me. ... I'm not bashful about going into the dark spots; it just didn't feel right. This one felt more honest. ... That kind of thing in life often does earn you at least a brief respite."
(This article originally appeared, in slightly different form, in the River Cities' Reader.)