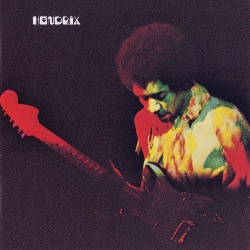 "Happy New Year, first of all," Jimi Hendrix says to the Fillmore East crowd at the dawn of 1970. "We hope you have about a million or two million more of them — if we can get over this summer." He pauses and follows that with a "heh heh heh" that suggests a hint of self-loathing.
In hindsight, it might be the saddest recorded laugh in history, as Hendrix didn't survive the summer, dying at age 27 on September 18.
Of course, it would be stupid to read anything into Hendrix's audience banter beyond the irony of his imminent passing. He was simply acknowledging the lameness of his quip, and he moves on, dedicating the next song to urban warriors and quickly appending: "Oh yes, and all the soldiers fighting in Vietnam."
And then: "We'd like to do a thing called 'Machine Gun.'"
The next 12 minutes — captured on the Band of Gypsys [sic] album — almost certainly represent Hendrix's finest live performance. And it's not merely the guitar-playing; this "Machine Gun" is the pinnacle of rock musicianship, with the instruments indivisible from the song, its subject matter, and its pitched emotions.