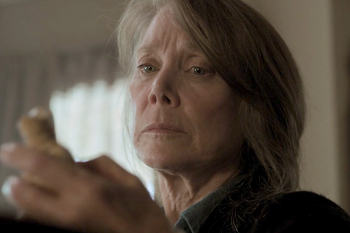 Hulu's Castle Rock was inspired by the works of Stephen King, and the show takes pleasure in giving the author's fans as many references as possible. Here's Alan Pangborn. Here's Alan Pangborn digging up a dead dog to make sure it's still dead. Here's a Torrance — Jackie Torrance, no less. Here's Shawshank. Yes, they're talking about Cujo. Yes, that's same guy who played Pennywise in last year's It, and of course that's Carrie White, and she looks quite a bit like she did forty-odd years ago. Etc.
But the series has also been adamant about forging its own identity. Rather than stitching together existing narratives, its starting point is the idea that King's fictional town of Castle Rock, Maine, has seen so much horror that there must be something seriously amiss. What other terrible things could happen there? So the show's inaugural season has primarily concerned itself with the nature of The Kid — an ageless blank slate who was kept in a cage for decades in the bowels of Shawshank — and thrown a couple other paranormal curiosities in orbit around it. (The tone is one of dark mystery, but it's barely creepy and absolutely not scary — none of which is a complaint.)
So when seventh episode "The Queen" immediately felt very familiar, I guess we shouldn't have been too surprised that it drew not from King but from a famously excellent episode of another TV show whose DNA had been plainly evident in this one. And then from a great movie.