About Jeff Ignatius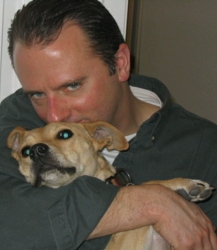 I am a journalist who has, at various points in my career, been published as a movie, music, and book critic (in descending order of aptitude) and has interviewed internationally renowned musicians (from David Harrington of Kronos Quartet to Kris Kristofferson to Neko Case to Dave Wyndorf of Monster Magnet) as well as authors and filmmakers of more modest repute.
I will forever be working on a book-length analysis of Paul Thomas Anderson's Magnolia.
I was born in 1971 and married in 2001.
My wife (a damned lawyer) and I have a dog about whom Wesley Willis wrote a song from beyond the grave.
A human child was born on February 1, 2008. Bride of Culture Snob swears that I am the father.
We live in the Quad Cities, on the Illinois side of the Mississippi River.
I rabidly root for the Boston Red Sox, and — thanks to the 2004 team — am no longer waiting 'til next year. By graduation, I follow the sports teams of the University of Illinois at Urbana-Champaign. By marriage, I am a fan of the Washington Redskins.
Latest Twitter Review
The awaited Jacob/MIB episode of 'Lost' was penned by series bigwigs but merely underlined already-obvious moral relativism. Gallingly dull.
> More Twitter updates
Recent Comments
I think your interpretation is right, and hinted at in the script: "When the sunshine don't work, the Good Lord bring the rain in."
"Don't follow your dick." I suppose there are many ways to interpret what we've just seen in TRANSIT. I suppose I find it a...
A wonderful list! And it feels all the more awesome because I can confidently say I've watched the first 8 movies with my daughter (barring...
It doesn't matter that you don't buy it, Solondz wasn't selling it in the first place. Fuck meeting the audience halfway. There's nothing wrong with...
Awesome analysis, one of the best i have read yet.
Recent Polls