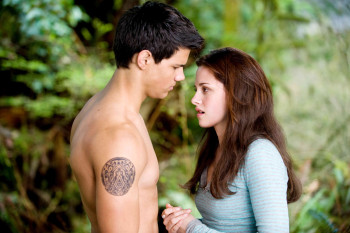 The Box Office Power Rankings do not like the Twilight movies. We are not fooled by the excitement or ticket-buying power of teenage girls. We are on Team No One. (Did I do that right?)
Neither movie has ever finished better than third place in the Box Office Power Rankings. We are confident that this validates our methods.
The first movie in the series was hammered by stiff competition. With a Rotten Tomatoes score of 44, it was 10th in the top 10 its opening weekend. To put that in context, New Moon's 28 netted it a seventh-place finish in the Rotten Tomatoes criterion its first weekend. (Thank you, Couples Retreat, The Fourth Kind, and Planet 51.)
But the reality is that neither of these movies, given Thanksgiving release, is ever really in the Box Office Power Rankings conversation, even though they're mostly avoiding the end-of-year Oscar bait. They might be ATMs for the studio, but without even better-than-mediocre reviews, they're DOA in this neighborhood.
And that means there's lots of room for movies that are more ... colorful. These five weeks of rankings feature wins by Precious (twice), The Blind Side (twice), and The Princess and the Frog, and a second-place debut by Invictus.
Continue reading for the full rankings and methodology.