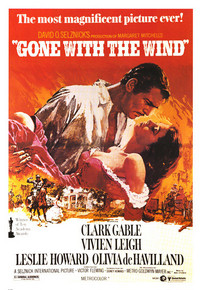 Because nobody has pushed The Dark Knight off its perch (either in the weekly box-office-receipts charts or in our Box Office Power Rankings) ... .
When Batman ($445 million through August 11) knocks Star Wars ($461 million) off as the second-highest-grossing movie in domestic-box-office history — which should happen this weekend — please keep the accomplishment in perspective.
Adjusted for ticket-price inflation, The Dark Knight at that point will still need nearly $130 million in additional gross before it even cracks the top 20. And it will need roughly $800 million more to catch Star Wars in inflation-adjusted revenues ($1.26 billion).
But let's keep that in perspective. The Dark Knight exists in a culture with frenzied competition for your attention and your leisure dollars. When Star Wars opened, the moving-picture options available in my house were limited to three networks and the three other movies playing at our local cinema.
So while I don't think it's fair to say with a straight face that The Dark Knight will have beaten Star Wars at the box office after this weekend, it's just as unfair to say it's almost a billion dollars short of Gone with the Wind ($1.43 billion in inflation-adjusted receipts). The truth lies somewhere in between.
Continue reading for the methodology and the week's full rankings — in a chart that you might actually be able to follow!